Guanacos: where to see them

See map
Many tourists come here, expect to see mountains and forests with these friendly animals typical of the region. Guanacos represent almost a postcard in Patagonia.
Although it became difficult to find them, by predation they suffered, ​​reservations were made to protect them.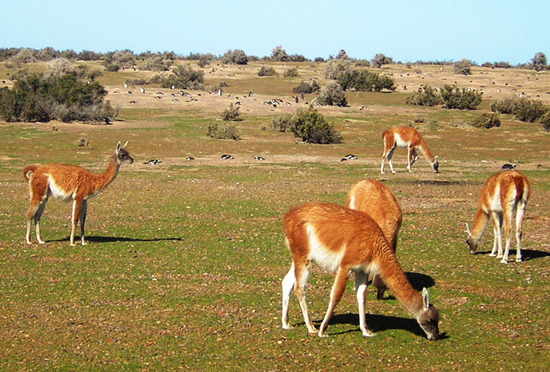 Guanacos in Punta Tombo
The most important in Patagonia is the Auca Mahuida. This massive 2000 meters high and has had his moment of fame in other cases when it was found the largest site of dinosaur eggs of the world.
The 5,000 guanacos roam its slopes are friendly there. The formal protection that is made for these animals brought them tranquility.
Much of the tourists who come to the Auca are attracted by these camels, which are filmed or photographed in large herds. The place has also been transformed into place for lovers of adventure tourism.
The hill is located 100 kilometers from Neuquén and 120 from Catriel in northeastern of Neuquén. On clear days, its grandeur can be seen from this locality of Río Negro.
Perito Moreno National Park (Santa Cruz) and the Peninsula Valdés, Chubut, are other places where the guanacos live more or less quiet.