Patagonian Ranches

See map
Patagonia means thousands of hectares without inhabitants. The wind blowing over fields of endless horizons. Impregnated with the immensity, the Patagonian farms are erected. Most of them are devoted to the breeding of sheep, although there are variations in different regions.
Over the last few years, rural tourism boom also reach the distant Patagonia and some of its farms have begun to open to "the public". Most of them are in Santa Cruz and Chubut, although the area of ​​the Middle Valley of Negro River is also having its heyday.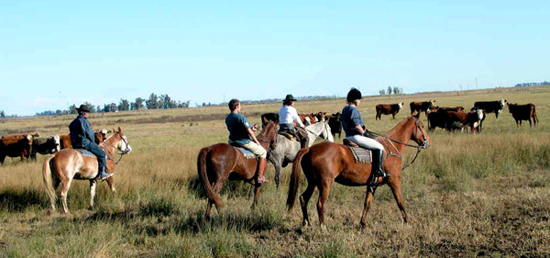 AHerding cattle in a Patagonian ranch.

Living the life of a fellow Southerner and rest of the city. All seasoned with a bit of adventure too. The day can begin in those farms, for example, with a sheep shearing, a leash, to follow lunch with a juicy roast lamb. Trekking, climbing, camping, horseback riding, mountain biking, trolling lakes, photographic safaris, archeological expeditions are a few among so many leisure activities that they offer.
And you can finish the day watching the stars in the South. Of course there is the option to relax at the ranch house, fitted to serve as a comfortable hotel.
In addition to appreciating the nature, visitors can experience the feeling of infinite distance. Wilderness, wild and deep. This is the framework where these ranchs are built as postcards and soon acquire the ability to move out to do activities.
In some farms the excursions are half day, but others have lodging capacity for tourism. And to note, the rooms of Río Grande offer plus trips to coveted fisheries in the vicinity.
We suggest you visit our accommodation section to find listings of stay in Patagonia.