The city of Pico Truncado, also known as the Gas Capital and the National Southern Folklore Capital, is located in the Deseado Department, north of the province of Santa Cruz, 60 km from the Atlantic Ocean and 200 meters above the sea.
This town is the third largest city in the province of Santa Cruz. It is located on the steppe of Patagonia, an area of ​​great aridity by winds from the west.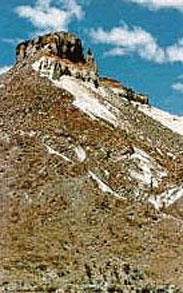 It was founded when the railroad moved from Puerto Deseado to Las Heras, as one of the most important stations in 1910. And it was officially constituted the town by decree of the National Executive Branch on July 11, 1921. Until the time of the discovery of oil in the Canyon Seco area, it was a very small town with no more than five hundred inhabitants, who lived of livestock and ​​trade by rail.
There was only the School Nª 8 where several generations of students passed. There was a doctor, rare in those times, who transmitted their knowledge to a large area in the province, as people from remote locations attended to be cured with him. There was no hospital and admissions were made in the local hotels. There are still some of these buildings, like the Hotel Argentino, which is preserved as it was in those times, all-metal, and there are also preserved the hotels La Paz and El Cóndor, but now are modernized.
Hotels were the places where rail passengers concentrated and they also officiated as churchs when some priest passed from time to time. They were used for marriages, baptisms, dances for parties and even for funeral homes. At the Hotel Argentino it also ran a sound cinema, a real breakthrough for the day.
View of Pico Truncado hill on the left. Photo courtesy of Luis A. Martinez from the photo álbum www.patagonia.com.ar
Today Pico Truncado is an important oil city with its own life and it brings wealth of its womb, as the gas that is sent through the Del Sur Pipeline to Buenos Aires.
It has 16,000 inhabitants, is located 2000 kilometers from Federal Capital (Buenos Aires), and 850 from the capital of Santa Cruz, Río Gallegos.
To the north it is at 55 km from Caleta Olivia, which is the second largest city in the province of Santa Cruz, and by National Route 3 is located 130 kilometers from the city of Comodoro Rivadavia in Chubut.
Towards the south, by consolidated road, you reach the area of ​​hills and Gobernador Moyano, even reaching Gobernador Gregores in the center of the province, 350 kilometers distant.
To the east you come to Puerto Deseado and west to Las Heras, Perito Moreno and Los Antiguos, nearby the border with Chile.