Patagonia is a rich field for Paleontology

See map
For more than 100 million years ago dinosaurs roamed the earth. Patagonia is one of the most rich in traces of their existence.
Our Argentinosaurus Huinculensis between herbivores or Giganotosaurus Carolini between the carnivores are the stars of Patagonia, and in fact they have put the region on the map of world paleontology. These two "giants", however, are not at all the most important discoveries in the area. The Patagonia seems to be covered with fossilized animals.
Permanently there are national and international teams, using geological maps, exploring different parts of Patagonia, producing findings of great importance to reveal mysteries of these "giants of the past".
Paleontologist
The patient search effort has been in the hands of paleontologists sometimes working in teams, some in solitary pursuits. Paleontology is not an undergraduate degree (such as medicine), but a specialty of biology (such as cardiology is to medicine).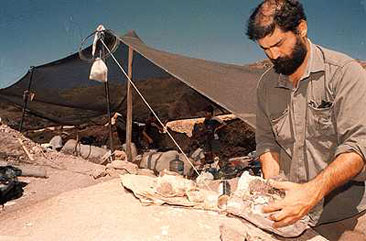 The peleontology is also a hobby that seems to "catch" those who discover the frenzy of finding fossils. Jack Mc Intosh -for long an authority on sauropods but its research has actually been a bit outdated in the last 10 years- was a physicist and was devoted to paleontology as a hobby. Yet no one questions his expertise on the subject and quality of paleontologist.
If for example a zoologist or biologist discover fondness for extinct animals begin to study specialized courses, investigate fossils and publish articles in scientific journals and they will thus become paleontologists. Even an amateur like Mc Intosh that proves to have knowledge on the subject, and this is certified by publishing research papers in scientific journals (scientific, not of science publish) will be accepted as a paleontologist.
This makes paleontology in one of the jobs that people are more vocation and dedication. This is noted in a patent way in the process of bringing the fossils to the surface. The same requires an almost maternal care to which is dedicated patience and technique.
Some of the men who have explored with valiant effort our soils are: Leonardo Salgado, Rodolfo Coria, Ruben Carolini and Tito Cabaza.
Museums
The large number of fossils found in Patagonia has led to a large number of museums to house them. Surely the most striking of these is the MEF (Egidio Feruglio Museum) in Trelew, which framed in a modern architecture, reproduces prehistoric scenes. Despite the striking of its presentation, some more modest museums in the region store extreme valuable paleontological fossils.