The Glaciers and the End of the World

See map
Perito Moreno Glacier and Ushuaia are two of the main attractions of the Patagonia. Both destinations attract thousands of tourists from around the world each year. The first is located in west-central of Santa Cruz and its part of Los Glaciares National Park, while Ushuaia is in the province of Tierra del Fuego.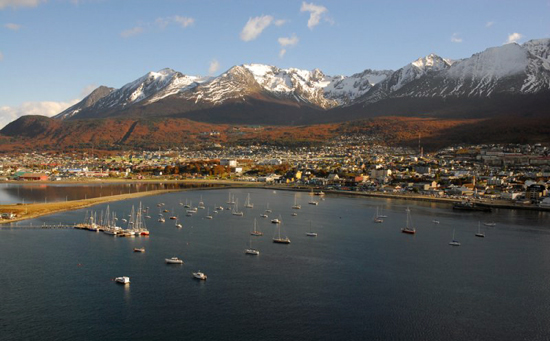 The sea, the city and the mountains background. Photo courtesy of Andrés Camacho, Secretaria de Turismo de Ushuaia.
Los Glaciares National Park is a unique wonder in the world for its natural beauty and was declared "World Heritage" by UNESCO in 1981. It is also one of the few places in the world where there is a breakdown of the glacier, which general public eager to see this natural phenomenon on the glacier Perito Moreno.
El Calafate, a resort closer to the glaciers is a city located on the shores of Lake Argentino. The magic of the glacier and the Andean forests prevail in the place invites you to different activities. Close by, stands the town of El Chaltén, famous among climbers everywhere for different trekking opportunities it presents.
Further south of Santa Cruz province, following the ridge, we found two little towns but they have its appeal, 28 de Noviembre and Río Turbio. The latter is the ski capital of the province, since it has the only winter sports center of it. The provincial capital, Río Gallegos is located in the southeast and has an important cultural and tourist movement.
And in the end of the world, propan said, lies the province of Tierra del Fuego, unique framework that combines the end of the Andes mountain range and the open sea. Postal can be seen in Ushuaia, where on the mountain range there are ski resorts. The provincial capital is Río Grande, livestock and industrial city, Tolhuin is in the heart of the island which marks the limit of the range to the plains.