The fauna in the Patagonia

See map
The fauna is the set of animal species that inhabit a geographic region. In Argentina, thanks to the great variety of climates and landscapes, there are a great variety of species.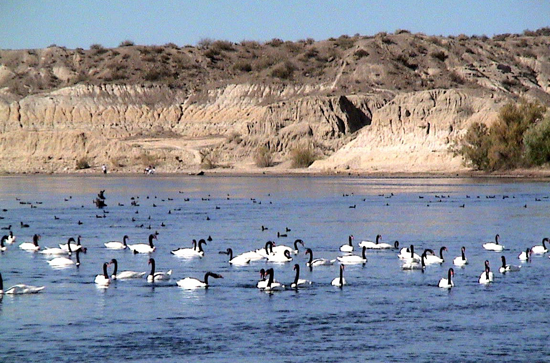 Black-necked swans in General Roca. Photo courtesy of Marcelo Gonzalez from the photo album of patagonia.com.ar

For its part, Patagonia is divided into two main regions, the Andean-Patagonian or continental and the littoral or coastal area.
In the continental region is common to find deer as the huemul and the pudu, pumas, maras or Patagonian hares, guanacos, foxes, condors, black-necked swans and ostriches.
In the coastal region highlights the lions and elephant seals, Patagonian penguins, sea lions, porpoises, dolphins, cromorants and right whales.
Also in the lakes and rivers you can find several species of salmon as brown trout, rainbow trout, landlocked salmon or silver torut, famous for its large size.
The fauna can be seen in national and provincial parks, natural areas and ecological reserves. National parks are made to preserve the flora and fauna of a particular place. It is always advisable to consult in the park or area for watching in order to respect for the habitat of animals and taking care of their preservation.