What to do in Puerto Pirámides

See map
This small town has a long history shared with the entire peninsula. It owes its name to a pyramid-shaped formation that helped sailors find the path to the natural harbor of calm waters.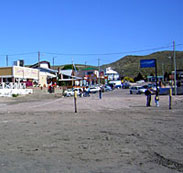 View of the main street of Puerto Pirámides from the beach.
What is an advantage for the navigator is also a pleasure for all senses. The small beach of Puerto Pirámides is serene and invites long hours to enjoy nature.
The main street starts in the fall of the path and ends three blocks later in the waters of the sea. This road is surrounded by shops, companies that do whale watching, hotels and apartments for rent.
Most visitors come from Madryn, make their visit a few hours and return to that city. But if your spirit is different and wants to live Patagonia closely you has to stay a night or two in Puerto Pirámides.
Attention, shops close early and there is little place to stay. But a brief search will surely make you discover an option, from affordable to elegant to fit your budget. But they are all good ways to enjoy Puerto Pirámides, the starting point for a patient exploration of the Peninsula Valdés.
Do not miss it!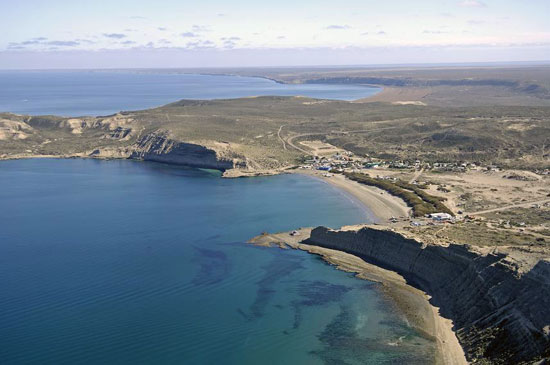 Aerial view of the Bay of Puerto Pirámides. Photo courtesy of A. Bonetti.