Enjoy sun and beaches of Puerto Pirámides

See map
Thanks to the microclimate of the Peninsula Valdés, you can enjoy the beaches of the region during much of the year. Both in Puerto Madryn and Pirámides, extensive beaches invite neighbours and tourists to rest on the seashore watching the landscape and a whale who comes to say hello.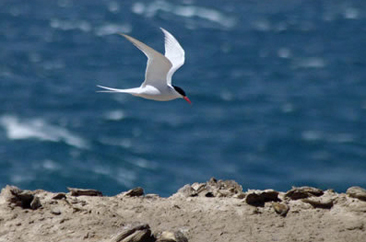 The sighting of different types of birds are common on the beaches of Pirámides.
As a semi-desert region it has low rainfall and sunny days. Also, being in a bay protected from the wind, the days are unseaworthy. From September to April you can take advantage of the sun and the beaches of Pirámides, which vary in size according to the daily tidal range of 40-300 meters.
Puerto Pirámides is the beach of the village, which is framed by dunes and tamarisk. This is the starting point for sailings in summer, sightings of sea lions, birds, dolphins and, in season, whales, becoming the only place in Argentina enabled for this encounter with the giants of the sea.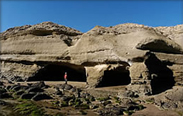 Las Cuevas beach.
After the tip Olazabal to the east is the beach Piedra Guacha, to which you can walk along the coast and is surrounded by huge cliffs.
Closing the bay and with low cliffs is Las Cuevas, a beach where the tidal and pass of time created series of caves together of different sizes. In this wonderful place you can see the sunset at sea.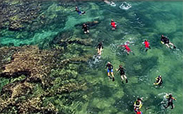 Pardelas beach.
If we turn away about 16 km from the town by the gravel road that runs along the peninsula, we find Pardelas beach. This site is ideal for camping and water activities like swimming or diving near a place called "la escalerita". There you can see the islet of Pardelas and to the left you arrive by the restinga in Colombo beach. The latter is a long bay-shapped sandy beach of kilometers. This is where you can see the tidal range with more notoriety, which at times creates a huge beach and others an extremely thin.
Source and photos: Municipality of Puerto Pirámides.