De los Pájaros Island Natural Reserve

See map
Near Puerto Pirámides is the De los Pájaros Island Reserve established in 1967 with the aim to protect species of birds living in the Peninsula Valdés. The island is 800 meters from the coast in San Jose Gulf.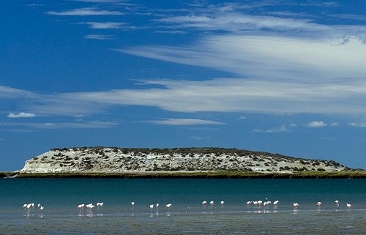 The De los Pájaros Island has an area of ​​170 meters long by 75 meters wide and contains species such as cormorants, egrets and witches gulls, Bigua, oystercatchers, flamingos, Magellanic penguins and terns.
Extensive shallow beaches do that appears to be a marine lagoon. At low tide that happens every 12 hours the island is connected to the mainland exposing marine life. You can see crabs, algae, and so on.
Since 1974 it is barred the entering to the island considered intangible zone on the coast but there is an interpretation center where binoculars were installed so that you can see the flight of birds and animals in their natural habitat.
Another option to visit in the area is a replica of the Chapel of Fort San José that was built in 1779 by a Spanish mission in the first colonization of the Patagonian coast. In 1810 the fort was destroyed by the native peoples. The replica of the chapel stands as proof of the old Spanish settlement.