The town of Perito Moreno is located at 46 ° 31 'south latitude and 71 º 01' west longitude in the northwestern province of Santa Cruz and has a height of 429 meters above sea level. Currently has about 6000 inhabitants, while retaining its small-town manners, quiet and safe.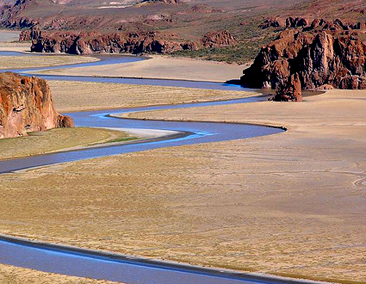 Deaseado river.
This southern town is surrounded by plateaus, near the headwaters of Deseado river and the banks of rivers Fénix Grande and Chico. Also, is 25 km from the second largest lake in South America, Lake Buenos Aires and 56 km of Los Antiguos.
Perito Moreno is presented as a typical Patagonian town a few miles left to see once boulders left by glaciers.
Curtains of poplars, willows and pines accompanied by colorful gardens give a special beauty to this tourist center of distribution in the area of ​​Lake Buenos Aires.
In the place you can visit different vantage points for observing all the rivers that surround it and other attractions in the area, such as the Plaza San Martín and Fénix river.
How to get there?
If traveling by car from the north you can arrive at Perito Moreno by National Route No. 40 and then through the Provincial Route No. 43.
If you are coming from Buenos Aires must travel almost 1,900 km of National Route No. 3 to Caleta Olivia, 52 km along Provincial Route No. 12 to Pico Truncado and 248 km on Provincial Route No. 43 to Perito Moreno.
It can also be accessed from Chile by border cross Chile Chico-Los Antiguos, 56 Km away or Puerto Ibáñez-Ing Pallavicini, about 98 km
These same routes can be performed on different bus companies or you can reach the town by air to the local flying club Lago Buenos Aires. In either case timetables and prices in the offices of the companies providing these services.
Related Articles
Places to visit in Perito Moreno
There are several points of interest presented by Perito Moreno in the northwest of the province of Santa Cruz. Get to know them and enjoy the scenery.
Around Perito Moreno
1
From Perito Moreno, you can visit various attractions in the province of Santa Cruz, such as Los Antiguos, the lake Buenos Aires, the cave of the condors and the Cave of the Hands, among others.
Cave of the Hands Festival
Every year the Cave of the Hands Festival is celebrated in Perito Moreno. This is an event to honor the main attraction available on the town in which local and national artists meet.
See all Articles