Located on the Andean region of Chubut province, 300 kilometers south of Bariloche, and 650 west of Trelew, is the city of Esquel. It is the most important in the Chubut mountain range and its geographical location allows to concentrate economic activity and infrastructure services in the region.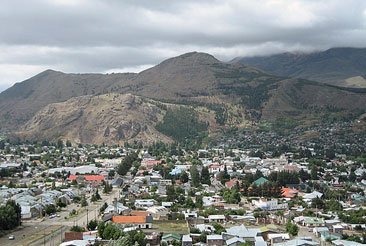 Seen from the viewpoint of the city of Esquel.
Founded in 1906, with the advent of the telegraph to the valley where it is now, Esquel is named after a home term tehuelche, which has been translated as "abrojal."
The first mention of "Esquel" was registered as "Esguel-kaik" in travel memories of the English sailor George Chartown Musters ("Mi vida entre los Patagones"), who realised an expedition from Punta Arenas (Chile) to Carmen de Patagones, following the route taken by a tribe of tehuelches, between 1870 and 1871.
The city is located in a depression in the surrounding hills at 550 meters above sea level, and the slopes give it an appearance of an amphitheater. Around it, rise the Nahuel Pan mountain (2240 ​​m) and the Cordón Esquel (2145 m), which highlights the homonym hill, and the Cerro La Hoya (2100 masl), where is the ski center the city.
Provided of an attractive natural environment, Esquel is now the most important service town next to the Los Alerces National Park.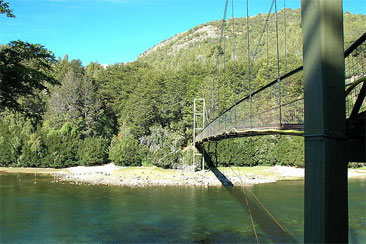 Lake Verde National Park Los Alerces.
With a growing and diverse accommodation facilities, food services and a major tourist infrastructure, the city has begun a remarkable change in its profile in recent decades.
While still offering its services to the rural sector, and in fact this activity offers attractive daily visitors, and it has a high rate of public employment because of the many provincial agencies that have their seat in the city. Esquel seeks to define its tourist profile integrating the Comarca Los Alerces (with the towns of Trevelin, Teck, Corcovado and Cholila), and being part also of the Corredor de los Lagos which includes the Andean regions of Parallel 42, the Rio Pico region to the south and important cities as San Martín de los Andes (Neuquén) and Bariloche (Río Negro).
A city that can be reached by air to the local airport or traveling by land routes 258 (from Bariloche), 25 (from Trelew) or 40 (from Comodoro Rivadavia).
This mountainous town is a starting point to the green and Welsh Trevelin, Los Alerces National Park, with beautiful walks and excellent fishing from spring to autumn, and it offers the possibility of skiing in winter. Also from here departs the most famous train of the Patagonia: La Trochita.