La Hoya Ski Resort

See map
The lowest rate between the Argentine ski resorts, a location that lets you keep the snow well into October and the ability to endlessly glide along 5 kilometers of slopes. These are some of the features that attract adventurous skiers in this activity.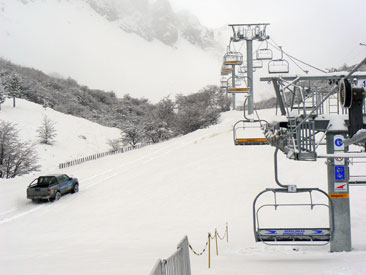 The way that naturally have this place, a pot, it allows the sun melts the snow early, thanks to this season extends to almost the month of October, when skiing is possible "on T-shirts." In La Hoya powder snow makes the difference from other ski resorts and allowed here to do downhill skiing, skiing and snowboarding.
It is located just 12 kilometers from Esquel, Chubut province, and it has 24 tracks and nearly 20 kilometers of slopes. The new lifts (three lifts imported from France in 1997), allowed to expand in recent years on the ski surface of the hill at more than double its 9000 meters.
Thanks to a flexible layout of the slopes, with connections as secure as dynamic, it is now possible to descend upon the tables along five kilometers without stopping. A rare privilege that will be surely appreciated by the skiers.
Rates are one of the lowest prices in the market, however, La Hoya resort offers skiing class with groomed slopes for all the difficulties and noting especially the areas where snowboarding off-piste's fans will look at home.
Facilities and services
Two cafés (La Piedra, at elevation 1600, and Del Refugio, at an altitude of 1800), a hotel at the base of the hill, a lodge with restaurant, ski equipment rental, day care, ski school and always friendly treatment of staff in charge of meeting all the needs of the skier and his family.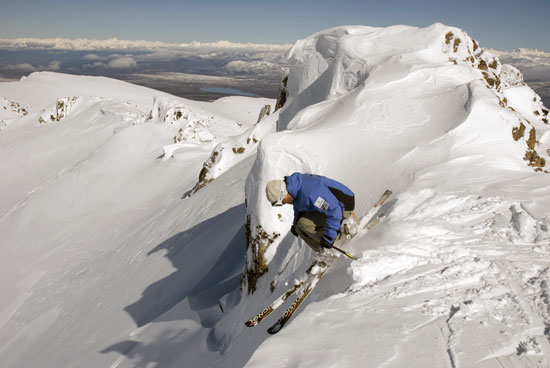 One of the most important ski resorts in Patagonia.
On the hill there are activities for all tastes. La Piedra café provides services so that eating on the mountain is an experience in itself. Its goal is that everyone can enjoy moments of rest in the mountains with a tasty and hot meal, careful attention and prompt service. And for those seeking a truly different experience, its gourmet space, located in a completely renovated mezzanine, will have a different menu every day in which excel the trouts, Patagonian lamb, regional hares and berries.
Another option is to take a La Piedra breakfast designed for skiers who need to add calories and protein for a full day of physical activity, and also La Piedra Tea, which includes crafts cookies and cakes.
Season Opening
Every year it is hold an event to kick off the ski season which brings together the best athletes and enthusiasts of this discipline. The opening usually have the presence of a national artist for a show and the traditional rugby X-Treme match in the snow with the participation of former Pumas.
At all times, visitors may use travel agencies or offices of municipal reports to provide the necessary information so that always reach the desired location and enjoy a pleasant stay. It is also present the National Ski Festival in September.
2011 Season Rates
Low Season
18/06 to 08/07
05/09 to 10/10

Medium Season
01/08 to 12/08
16/08 to 04/09

High Season
09/07 to 31/07
13 to 15/08

Adult

Min/Sen

Adult
Min/Sen
Adult
Min/Sen
Lift
35
35
35
35
35
35
Half Day*
95
75
105
85
125
100
Dayly
115
95
145
115
160
125
2 days
220
175
260
210
290
230
3 days
320
260
385
305
425
335
4 days
400
320
500
400
560
435
5 days
505
415
605
485
680
530
6 days + 1 Day free
600
485
705
565
795
620
15 Days
1040
840
1260
1010
1450
1150
Monthly
2080
1685
2520
2015
2750
2180
Observations
*Half Day is from 13 pm.
Categories. Minor: 6 to 12 years. Adults: 13 to 55 years. Senior: 56 to 65. Children less than 5 years and Master over 65 No Charge, they will pay only $5 insurance.