Lake Moquehue is a mirror of crystalline water that is located west of Lake Aluminé after the narrows separating the two lakes. It contains landscapes of incomparable beauty.
From Villa Pehuenia take westward, passing through the narrow, narrow channel connecting the lakes Aluminé and Moquehue. Few kilometers after you pass through the health center and province's nursery. At the junction of routes you have to take for Provincial Route 11 which goes into the forest. Seven kilometers later you overlook Lake Moquehue.
Beautiful lake of crystal blue waters with cliffs coast and beautiful spaces for free camping. You can follow the route to visit the residences around the lake up to Moquehue village, then returned to Villa Pehuenia. You can also go south to visit the lake Ñorquinco and there reach Aluminé or lake Quillén.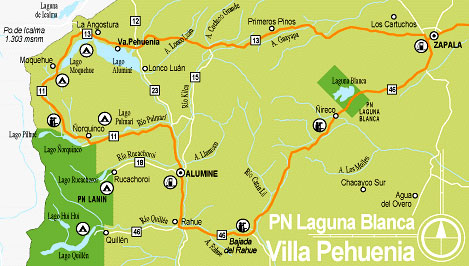 In the tourist town of Moquehue there is a different post for each season.
In the lake you can practice water sports, hiking along its shores or just spend the day contemplating the beauty of the place that delights all visitors with its majestic and pure mountain air. Undoubtedly, it is an ideal place to rest.