Tours by Moquehue

See map
Moquehue is a mountainous area close to the border pass with Chile. During winter, the site invites visitors to slide in the snow for several months of white landscape in the nearby Batea Mahuida volcano, where you can do Nordic and alpine skiing.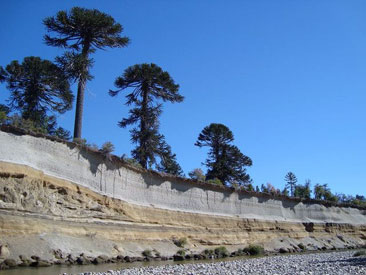 Quillinhue River. Photo courtesy of Alejandra.
But those who do not visit in winter you can take excursions outdoors as bird watching, relaxing on the beaches of Lake Moquehue or find waterfalls and forests.
The tours take place along paths of low difficulty, in which the tourist will know the Patagonian corners with a guide that describes the landscape relating it to the past and telling stories of the present.
This produces an attitudinal change through the evaluation and preservation of what surrounds us, an important reason for visitors to feel part of the land of the pehuenes.
The trails:
- Waterfall and subantarctic forest, the tour lasts 3 hours, with a height of 150 meters (1150 - 1300 m). The difficulty is low and tours are done in the period from October to May.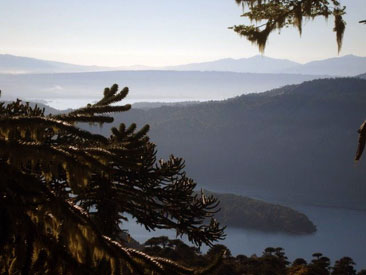 View from the Chenque Co of Lake Moquehue.
On the way stories that give names to the mountains are told and the mills of Moquehue are visited. Walking through the native forest, the tourists photograph exotic species and flora. In addition, you can see the process of melting from the peaks of the lake.
The forest in Moquehue is divided by the valley and on each side it has different characteristics. Mapuche culture is present in the tours, in which you visit the graves (chenques) and it is explained their meaning and the effects of archaeological predation.
- Beach and stream El Blanco, this tour has a duration of 5 hours with differences of 100 meters (1150 to 1250 m). The difficulty is also low and it can be done from October to May.
You can view how the ice and fire have been and are forming the landscape. You cover pure forests of coihues and ñires.
- Finally you can make a city tour of Moquehue. You know the chapel with all its regional architecture and iconography, visit the beaches of the region and if the weather permits, those who wish can swim in the lakes, although they are of very low temperature. Also there are recounted the origins of the settlement and the guide discusses the history of the mills in Moquehue.