Batea Mahuida Snow Park

See map
Batea Mahuida is a volcano located on the north bank of the Alumine river, a distance of only 6 km from Villa Pehuenia and 310 from Neuquén.
Located in the Andes at about 1,500 kilometers south of Buenos Aires and only four of the border with Chile.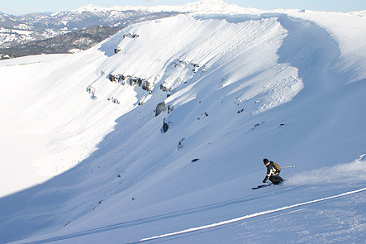 Skiing on Cerro Batea Mahuida. Photo courtesy of www.cerrobateamahuida.com.ar
The Mapuche Puel community obtain a grant to manage the ski resort in this beautiful place in Patagonia.
They had raised to the authorities the need to promote skiing at the Batea Mahuida to raise revenue for the community. And thus, the community opened Tuesday July 11, 2000 the "snow park" on the hill Batea Mahuida.
While at the foot of hill there is no accommodation they can be achieved in Villa Pehuenia inns and cabins of excellent quality.
Officials of the Commission for the Promotion of Villa Pehuenia stressed that the money raised by the exploitation of the "Snow Park" is entirely in the hands of the Community Puel.
Batea Mahuida features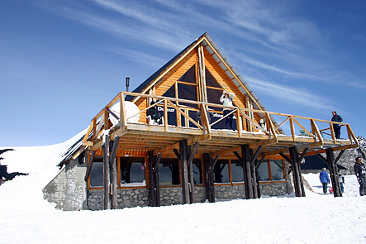 Cerro Batea Mahuida refuge. Photo courtesy of
www.cerrobateamahuida.com.ar
The Cerro Batea Mahuida has a main piste of 1000 meters long and three lifts, a T-Bar anchor 700 meters, a beginner poma of 150 meters and other ointments that leads to the Cerro Monkol.
At 1546 meters above the sea level is the tearoom and restaurant, serving regional dishes based on typical products such as piñon and has a capacity for 400 people.
At this point there are also ski instructors, rental of skis, boots, poles and snowboards, and the sale of passes. While next to the physical space of 180 m2 is an excellent vantage point for tourists to contemplate the ski immersed in a beautiful landscape, from which you can see lake Aluminé. In addition, in the hill there are a first aid room, ski patrol services and free parking.
Rates of the 2011 season
Lifts:
Low season
08/23 to 10/15


High season
07/01 to 08/22


Day
75
95
Half day
60
75
Equipment rental:
Ski
Complete day
$55
Half day
$55
Snowboard
Complete day
$90
Half day
$65
Ski Carv
$40
Boots
$40
Canes
$20
Snow
$50
Snow boots
$40
Snowboard and ski lessons:
Group: $ 100
Individual: $ 120
For more information visit the official website Cerro Batea Mahuida.