Activities in the Batea Mahuida

See map
When a tourist arrives at Villa Pehuenia the first thing recommended is to go to the Batea Mahuida. There it is a Snow Park which is in charge of the Puel Mapuche Community.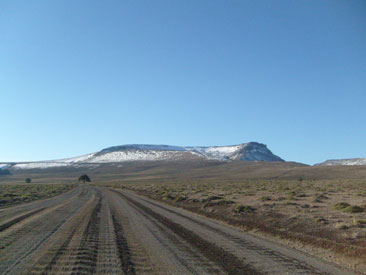 The crater of the volcano Batea Mahuida.
Batea Mahuida volcano is inactive. At its center it is a lagoon and from the summit you can see the Chilean bordering volcanoes, Icalma and Villarrica, and Argentine volcano Lanin. Batea Mahuida means "high source" in Mapuche language in reference to the lagoon. Before reaching the summit you can see the surrounding lakes, Aluminé and Moquehue.
Located about 8 km from the center of Villa Pehuenia, the Snow Park is in operation since 2000 offering advice to tourists and a variety of activities to enjoy the snow, among which are:
Sleigh rides, the park has a dog sled track and one exclusively for children.
Snowmobiles to take a tour of the volcano.
Snowshoeing through the forests of monkey puzzle.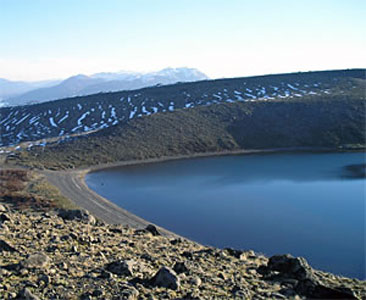 When scaling the side of the crater you have this view of the lake inside it.
Another alternative is to accept the proposals of the Puel who organizes recreational activities such as:
Condors flying that is a decrease in slalom with open arms wearing mapuche ponchos;
the evening torchlight parade;
the creole ring or
snowmen contests.
All, hilarious suggestions to enjoy in family. On the other hand there is another activity to schedule, the "Snow Festival" that is held in August.
Those who do not have ski equipment can rent it at the center, where there are instructors who teach ski and snowboard classes individually and/or group counseling for all ages.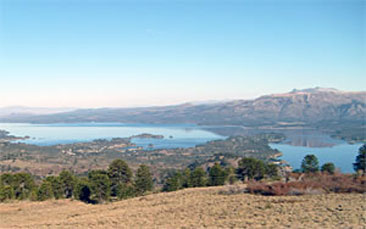 View from the viewpoint of the volcano Batea Mahuida. Villa Pehuenia and Lake Aluminé.
The shelter has a cafe for a break between ascents to the volcano and games in the snow.
The ski center has two slopes, each with its average elevation. The first is called "Monkol" and is 1700 meters above sea level with a T-Bar anchor of 700 meters in length, while the second track is called "Chankin" and lifting is an ointment or ski-lif of 150 meters for beginners.
With a height of 1900 meters above sea level, the Batea Mahuida offers extensive season beginning in June and ending in October.
There are two ways to get there:
From Neuquén, distant 320 km, take the National Route 22 to the city of Zapala. There continue along Provincial Route Nº 13 to Primeros Pinos, which lack the last 118 km, 50 paved and the rest of consolidated gravel.
Another option is to leave from Zapala by Provincial Route 46, across the Laguna Blanca National Park towards the town of Aluminé, 121 km. From this point there are 63 km to reach Villa Pehuenia, always bordering the river Aluminé.