A weekend in El Chaltén

See map
El Chaltén is one of the offers for a weekend escape, offering tranquility and magnificent scenery to explore and photograph.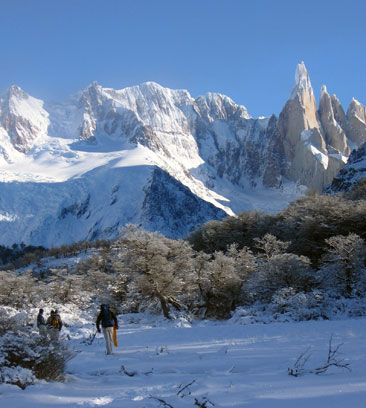 Hiking to Lagoon Torre. Photo by R. Campillo.
Between a landscape of mountains and valleys the proposal is to make well-marked trails tours usually that do not present difficulties, but you can do with mountain guides for added security.
The city is located within the Los Glaciares National Park, west of the province of Santa Cruz. Located at the foot of the mounts Torre and Fitz Roy, is just 220 kilometers from El Calafate and 520 of the capital city of Río Gallegos.
You come to town on National Route 3 (paved) and National Route 40 parallel to the the Andes mountain range (mostly gravel).
The city is ideal for those who enjoy mountain activities, hiking, bird watching and biking, among others.
The walks are conducted through forests with rushing rivers, lakes and glaciers. In addition native species are seen in the area. The most highly recommended trails to go with family because of its little difficulty, are the Viewpoint of the Condors and the Chorrillo Jump, claiming in each case one hour walk. Or Lake Del Desierto, which it is 37 km of the town and a lake that is surrounded by ancient forests, glaciers and streams, where you can also go fishing and camping.
For experts and those who want to do more trails are enabled Lagoon Capri and Lagoon Torre, which require four to five hours of walking, respectively, leaving from the town.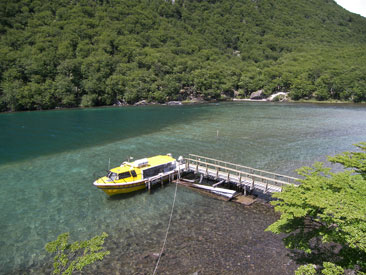 Knowing the Lake Del Desierto demystifies the name, in this picture you can see the green landscape and the crystalline waters. Photo courtesy Jan Zakelj
Other places to visit are: the former residence of Andreas Madsen, Camp Poincenot, Lagoon De los Tres, Piedras Blancas Glacier, Piedra del Fraile, lake Viedma and glacier Huemul, among others.
But is not only walking. You can also rent bikes and take a ride along the bike path that is surrounded by a stunning forest along the De Las Vueltas river, that runs four kilometers one way.
You can also do horseback riding, renting service with specialized guides. Another option is to enjoy the rivers and lakes before the cold starts, going kayaking or rafting cheering.
On the other hand, 4x4 outputs are made from El Chaltén that run along the famous Route 40, visiting the Cueva de las Manos, Los Antiguos, El Calafate and the surroundings.
The National Park offers free camping areas in the mountains, but its use is subject to weather conditions and according to the temperature at this time of year.
From the Secretary of Tourism is reported that in El Chaltén there are no banks, only an ATM and there are some food services. It should be consulted before taking any services because they do not accept debit and credit cards everywhere.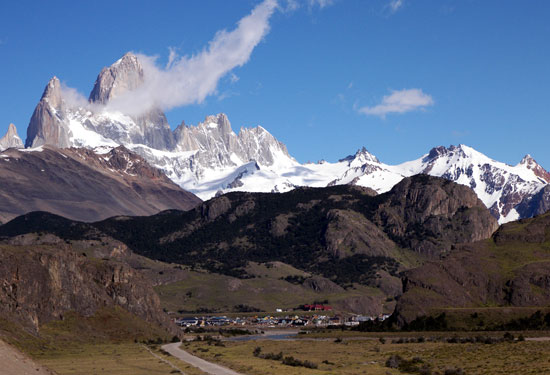 El Chalten means "smoking mountain" and it was named by the Tehuelches who see the clouds at the top of the Fitz Roy, in this picture you can see what they saw. Photo of Jan Zakelj
Source and photographs: Local Department of Tourism, Av Guemes 174, phone: (+549 02962) 493270, elchalten@santacruzpatagonia.gob.ar