Los Glaciares National Park

See map
The Perito Moreno glacier is near El Calafate, a territory ruled by the eternal ice. Whether by land, sea or walking to the glacier, this is something everyone should see once in life.
At 80 kilometers from El Calafate along Provincial Route N º 15, rises the Perito Moreno glacier. Along with 12 other glaciers form the so called Continental Ice , which is a mantle of ice and snow covering the Southern Cordillera along 350 kilometers. The Perito Moreno reaches 5 kilometers from the front, 60 meters high and in the hiking season is possible to observe the detachment of huge blocks of ice in the waters of Lake Argentino that then sail through the Canal of the Icebergs.
Los Glaciares National Park
The entire area is within Los Glaciares National Park, created in 1937 in order to preserve the continental ice field, his thirteen glaciers and various sub-Antarctic forest environment and the steppe of Patagonia.
This park consists of 30 percent ice (2,600 square kilometers). Between the glaciers in the place there are the Upsala (the largest of all), Spegazzini and Perito Moreno. The unique activity of the latter is because the park became part of World Heritage Site in 1981. It happens that in addition to the whiteness of its surface and the blue tones of its walls, leaving deep traces in the memory of the tourist, this is one of the few glaciers in the world and the only one of the ice in Patagonia that continues to advance at a rate of 100 meters per year. This movement generates one of the most anticipated events for visitors: the breaking of the ice dam formed by the glacier.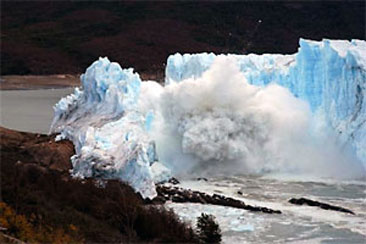 The breaking of the dam that form the Perito Moreno Glacier.
This marvel of nature occurs at irregular periods. The last three occurred in 2004, 2006 and 2008. There are no scientifif estimates on the next break and it is not possible to know how many times you can enjoy this wonder, since the Perito Moreno and other glaciers are suffering the consequences of global warming.
While it is not possible to see the break, a visit to Perito Moreno is undoubtedly a must for those traveling on Santa Cruz lands.
All around
Even when the protagonist of a visit to Calafate is the glacier, all around is delicious, balanced with the beauty of the ice.
The hills Onelli and Bertrand are guarding the Perito Moreno whiteness. There are also the Chalten, Fitz Roy (3,375 m) and Torre (3,128 meters) visited by climbers around the world, especially in the summer.
The right framework is provided by the flora, composed of lengas, coihues and ñires that harbor species of forest as the huemul and red fox. Finally, you can enjoy the black-necked swans, woodpeckers of Patagonia, eagles and the mighty condor that spreads its flight in the high peaks.