Trekking on the Perito Moreno Glacier

See map
Walking on the glacier ice is a fascinating opportunity that is suitable for all and it does not require much effort.
Tours depart from the pier at Bajo de la Sombra, on Provincial Route No. 11, 75 kilometers from El Calafate. Several travel agencies organize the bus trip from El Calafate and back. If you own vehicle should be punctual and is also recommended to bring food and shoes or boots for walking comfort.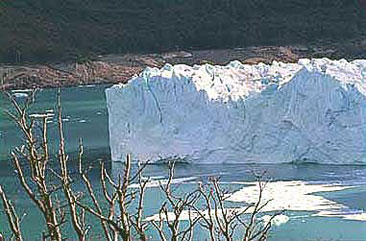 Glacier icebergs drift.
To get there you must take the Provincial Route 11 in El Calafate (km 0). At Kilometer 49 is the entrance of Los Glaciares National Park and 26 km further is the pier Bajo de la Sombra.
The tour begins when boarding a large dinghy closed, onto which cross the Rico Arm from the Magallanes Peninsula to the opposite coast. There is landed to begin a journey on foot a few hundred meters down the coast to the southern edge of the glacier Perito Moreno.
Travelers should put on the shoe metal crampons for the walk, assisted by guides. The view along the way is ideal for taking photos, the deep cracks seen deep blue within which water flows. You also learn the technique of walking on ice (for which the crampons are essential) and have an impressive view from the top.
Here it is recommended not to smoke or eat to not alter the purity of the landscape. After we return minitrekking walking in the woods, where you can see examples of lenga and thick trunk ñire of several hundred years old. Near the pier there is a hut for lunch before starting the navigation back. When weather permits, the rubber boat sails very near the front of Perito Moreno, enabling real take share of their size.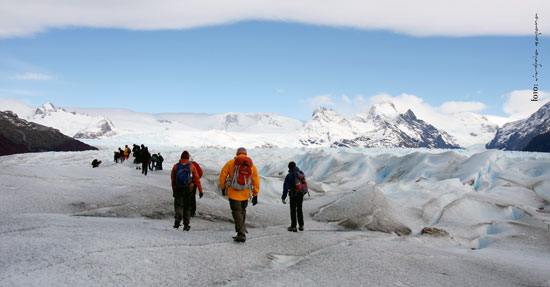 Trekking on the glacier. Photo of Virginia Zapana courtesy of Sec. de turismo