Gigantosaurus Carolini

See map
On July 25, 1993, Ruben Carolini, an unemployed mechanic, came across with the fossilized bones that would become the largest carnivorous dinosaur in the world, displacing the reign of the no less than the famous U.S. Tyranosuaurus Rex.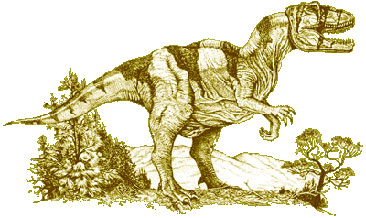 Giganotosaurus Carolini.
The mechanic's last name was immortalized then, and the creature took the name of Giganotosaurus Carolini, meaning Southern Giant.
Of this animal were found more than 70 percent of the bones, something uncommon in the case of carnivorous dinosaurs. The skeleton was buried in the desert about 18 kilometers from the Villa El Chocón and close to the Lake Ezequiel Ramos Mexia.
The animal lived in this part of the planet for 100 or 105 million years ago, in what was the secondary era of the lower middle Cretaceous period. It measured about 15 meters long, the height of the hip was 4.60 meters tall and -stood up- up to the head it was about 8 meters.
It is estimated that its weight was not enough 10 tonnes, according to the latest estimates his overhead was of 9,500 kilograms.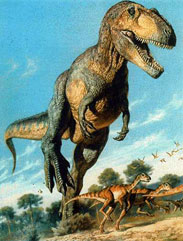 The teeth of this bug, which is practically checked was scavenger, were 15 centimeters long and were curved like a dagger. The fragility of the teeth found and analyzed by paleontologists support the theory that it was not a hunter but eating dead animals, especially the giant sauropods, a genre that generally exceeded in size to the carnivores.
He had a short, muscular neck, so that in one move he could tear apart anything that bite. The mouth of the Giganoto can accommodate without major problems to an adult in fetal position.
The place where it were found the remains of Giganoto at the time the animal was king was crossed by streams and rivers of high-energy, protected by pine and palm trees galleries. Most streams flowed into the Pacific Ocean, as the Andes did not exist.
The landscape that shows the area of ​​El Chocón in these days is far from what it was in the Cretaceous period.
The bones of the dinosaur, and a replica made of resin size, are displayed in the municipal museum of Villa El Chocón, of which Carolini is the director.