Antú Quillén Cultural Center in Epuyén

See map
On the shores of the lake in the town of Epuyén is located the Antú Quillén Cultural Center. This cultural center is carried out by a civil non-profit association formed by local artisans who share their ideals with respect to social, cultural, productive and environmental topics.
The site is built with the aim of selling the public regional crafts and products produced entirely by members of the association. This will generate income and jobs that increase the quantity and quality of the products that are made.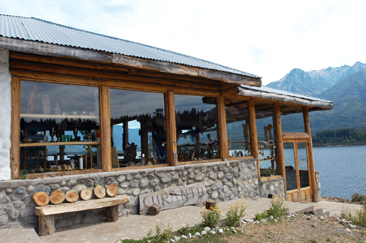 Antú Quillén Cultural Center, on Lake Epuyén.
Since its inception in 2001 it has been made workshops and seminars on pottery, children's literature, rope, tools, Mapuche language, cooking, etc, artistic and cultural events by local artists and other locations, and it is hold the exhibition and sale of crafts. It also holds the Mapuche New Year celebration.
Currently the association is composed of more than 90 partners, all of the town of Epuyén who through commitment and collaboration carry out this center and invite you to visit and share their work.
Phone: (02945) 499 170.
Showroom hours: Every day from 11 to 18.
Source: www.epuyen.gov.ar