Attractions in Gaiman

See map
Gaiman is a city steeped in tradition. On the streets, in business and all its building infrastructure is fraught with a strong Welsh heritage. This style from the settlers of the region can be seen in buildings of stone and bricks, tea houses and ancient chapels. Also, you can learn the history of the Welsh settlement in the different museums of the town.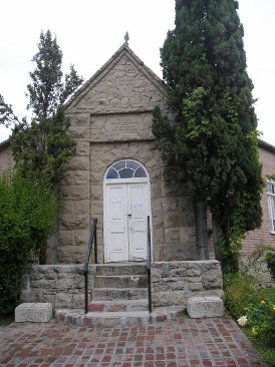 One of the welsh chapels you can find in Gaiman, Patagonia.
Gaiman is located 17 kilometers from the city of Trelew and offers the possibility of staying in hotels, lodges, cabins or lodges in rural areas and on the banks of the Chubut river in Patagonia.
The Welsh chapels
Today you can visit many of the Welsh chapels in Patagonia, being able to observe the architecture and woodwork of spruce wood inside. To visit the chapels you must know the times set enabled or contact the person responsible for opening them.
Salem Chapel: Call prior to Dalila Griffths at (02965) 15672230.
Bryn Crwn Chapel: Open Saturday and Monday from 2pm to 4pm (until September, except winter holidays).
Bethel Chapel and Old: Open Monday, Wednesday and Friday from 3pm to 5pm.
Moriah Chapel: Open Monday through Friday from 10am to 3:30pm.
Drofa Dulog Chapel: Open Monday and Thursday from 5pm to 7pm.
Tabernacl Chapel: Open Monday, Wednesday and Friday from 10am to 12pm.
Glan Alaw Chapel: Call prior to Aldwyn Brunt at (02965) 15669293.
Bethesda Chapel: Open Mondays, Wednesdays and Thursdays from 2pm to 4pm.
St. David's Chapel: Call prior to Lydis Mirna Hughes at (02965) 15681212.
If you drive along Provincial Route N º 7, you can visit the shrines Crwn Bryn, Bethesda, Glan Alaw, St. David. The remainder are in the town area.
El Desafío Park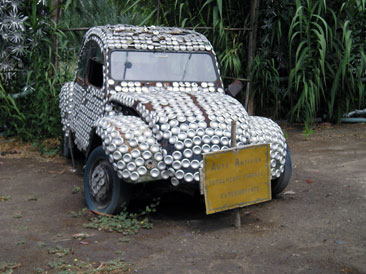 A unique park, El Desafío, built with recycled elements.
This park, located on the banks of the Chubut River, was built by a retired from Gaiman, Don Joaquín Alonso. The origin of this park dates back to April 1 1980 and arises from the pleasure of building fun for his grandchildren. It is built solely and exclusively with recycled elements that shape a wide range of issues. Along the same phrases can be read many thought-provoking for visitors. Open Monday to Friday from 3pm to 7pm on Saturdays and Sundays from 9am to 7pm.
Paleontological Park
10 km from Gaiman, in the spot Bryn Gwyn, this tour allows you to go back in time to the time that these lands formed the bed of the Atlantic, being able to see priceless archaeological treasures. On arrival at the top shows the southern arid steppe, with green pastures and distant poplars in the background, with courses in ditches that flow toward the riverbed.
The walk, a trip to the end of time, holds a number of discoveries, as covered by glass pyramids, you will find replicas of marine mammals, crustaceans, bivalves and gastropods, all belonging to banks fossils found at the site, dating ten million years ago.
Source: Press Release - Secretariat of Tourism and Protected Areas