The Valdelen ski resort of Río Turbio

See map
Since 2008 the province of Santa Cruz has a winter sports center suitable for Nordic and downhill skiing, in addition to being an alternative to snow enthusiasts who enjoy the activities there in the middle of a stage surrounded by ancient beech.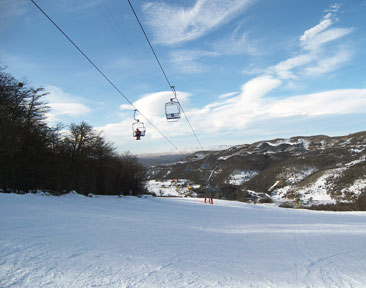 The Vandelén Winter Sports Center is the only one in the Province of Santa Cruz. Photo courtesy Jan Zakelj
Just 4 km from the city of Río Turbio, in the vicinity of Mina 1 spot on the hill Dorotea, is the Vandelen Winter Sports Center (Beech Valley) by the Club Andino Río Turbio entity. From there, during days of good visibility you can appreciate the Pacific Ocean and the needles of Torres del Paine, belonging to National Park of the same name in the Republic of Chile.
The centre has over 400 skiable hectares with various types of slopes that are divided into different categories: advanced, expert, competition, beginners, crosscountry skiing and sledding. There you can Nordic and alpine skiing and also do other activities such as snowboarding, skimobile, quads and sleds.
The lifts that are in the Complex Valdelén are a beginner lift arc (70 meters), a lift from the platform to the top of the hill drag-simile poma (300 meters) and a double chairlift 1000 meters high.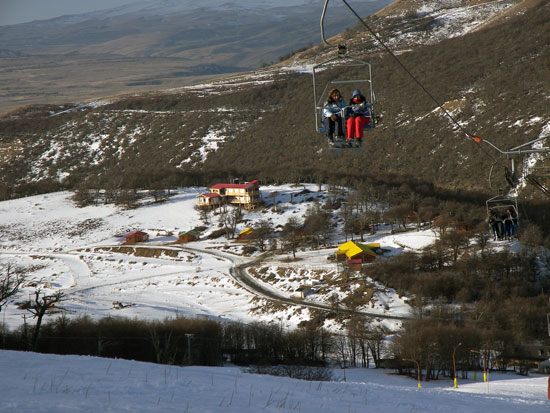 The different slopes allow skiing both advanced skiers and beginners. Photo courtesy Jan Zakelj

Within Vandelén you also find a Instructors Service, a nursery, a confectioner, a lodge, cabins, lodging, rental of ATVs and snowmobiles, and the ability to carry out photographic safaris to take panoramic images of the Torres del Paine, the Pacific Fjords and other natural beauties of the area.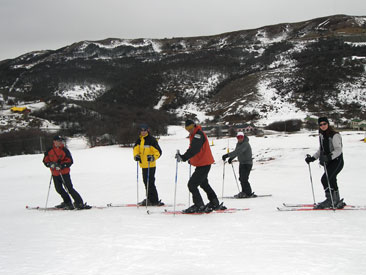 With your family or friends, the snow provides the opportunity for all to have fun and learn. Photo courtesy of Jan Zakelj
In the form of Downhill Skiing skiers find slopes up to 38° with a vertical drop of 250 meters, ideal for beginners and advanced students, who also can ski at night by artificial lighting of the place. While in the mode of Nordic Skiing tourists and residents can ski trails through valleys and beech forests.
Here it is also performed the Provintial Snow Festival during the month of August where there are activities like folk clubs, plays, fairs, sports competitions and the provincial election of the queen of the snow.
Season 2011
Services
Adults
Cadete (13 to 17 years) *
Minors of 12 years
Right of Slope
Members
30
25
20
Residents of Río Turbio
50
-
35
Non-Resident
80
-
50
Equipment Rent
Members
30
25
20
Residents of Río Turbio
50
-
35
Non-Resident
80
-
50
Snowboard Rent
Members
80
Non-Members
110
Season Pass
Members
400
300
200
Non-Members
1000
600
Annual Membership Fee
Members
150
100
75
Rates of the 2011 season. Expressed in Argentine currency.
* Category for members only.
For more information visit the official website of the Center Valdelén