Río Colorado: getaway to Río Negro

See map
The city of Rio Colorado is located in the northeastern province of Río Negro, on the south bank of the watercourse which gives it its name, at km 857 of National Route 22.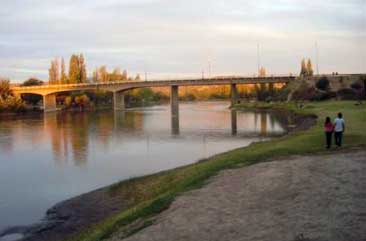 Road bridge across the Colorado River.
The first population settlement was recorded in the area known as a Buena Parada in the late nineteenth century. In 1897 the rail link Neuquén-Bahía Blanca opened, establishing a station on the higher ground (about 5 km distant approximately), which takes the name of Río Colorado.
By decree on March 29, 1901, signed by then President Julio Argentino Roca, it was officially declared town to Buena Parada Good and railway station to the Río Colorado.
In 1915, a great flood destroyed most of the existing buildings in Buena Parada, thereby causing the transfer of authorities and institutions on adjacent lands to the railway station, where it is today.
From the economic point of view, Río Colorado with nearly 14 000 inhabitants (2001 census), it is based on two pillars: agriculture and livestock. It has an irrigation canal of 70 km long, covered in full with enough water to irrigate large areas, whatever system is used.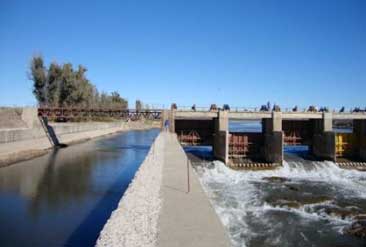 Andersen Dam over Colorado River.
In recent years there have been alternative activities related to production, the most prominent is beekeeping.
Geographically, Río Colorado is strategically located in the Patagonian tourist corridor, as it is a must see place for those traveling from Capital Federal, Buenos Aires province and northeast of Argentina that target Andean resorts of Río Negro and Neuquén.
It is also an interesting option for travelers from the north and from Cuyo that are going to the area of ​​the Argentine Patagonian beaches. Río Colorado is the ideal resting place on your journey to southern Argentina.