Petrified Forests

See map
The big question about the petrified forest is, what forces acted on these trees over a hundred yards to knock them down and petrify? It seems that they were felled by a force of great magnitude that managed to annihilated them in the fullness of their development.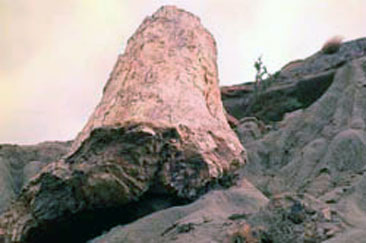 This seemed to be confirm by the remains, also fossilized, of its fruits, seeds and roots which are still embedded in the ground.
The strongest theory is that a hurricane raged in the forests. Scientists agree on the assumption that this region was hit constantly by weather phenomenons of this nature, accompanied by earth tremors and volcanic eruptions.
At that time it were also followed a series of earthquakes that led origin to the Andes.
From this combination of climatic factors and orogenic came thick clouds of smoke and ash that covered completely the fallen trees. From there it began to change the climate of the region, drastically altering the Patagonian ecosystem and transforming the geography leaving in the obscurity the giants of wood.
This process is what happened with Jose Ormachea Petrified Forest and with the Jaramillo Petrified Forest.