Vista Alegre: general data

See map
To the North of Neuquén capital is the town of Vista Alegre close to Centenario. It offers rural tourism activities with visits to wineries or the possibility of spending the afternoon on the banks of Ingeniero Ballester Dam.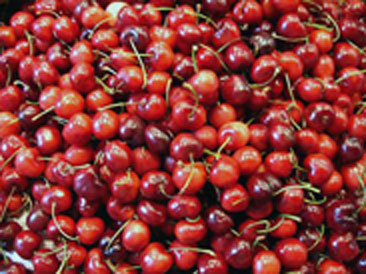 Cherries are part of one of the fruits produced in the region.
To Vista Alegre you come from three arteries. Those who come from Río access along National Route 151, or from Neuquén through the Provincial Route 7 and the Provincial Route 51.
Colonia Vista Alegre is located 30 km from Neuquén capital city on the right bank of Neuquén River. In 1993 the town was municipalize, being independent from the nearby town of Centenario.
The town is composed of foreign immigrants, Italian and Spanish, who were the first settlers of this area of ​​the valley and from the 80s people came from neighboring countries such as Chile and Bolivia.
On October 6, 2006 were completed 110 years of signing the 1st Lease Contract in favor of Mr. Ernesto Gramonda, who led the first surveying carried out on these wondrous lands of the then National Territory of Neuquén.
As several of the towns of Alto Valle comprising the provinces of Río Negro and Neuquén, Vista Alegre based its production in fruit growing. In addition to apples and pears, typical fruit of the region, there are stone fruits such as cherries and peaches.
Another activity is the exploitation of oil and gas basins.
Ingeniero Ballester Dam

View of Ingenio Ballester Dam. Photo courtesy of
www.vistaalegre.gov.ar

Very near Vista Alegre is the Ingeniero Ballester Dam, located in the northeastern access of Neuquén province, linking the town of Vista Alegre with neighboring Barda del Medio in the province of Río Negro.
The dam serves as irrigation and flood control of rivers. It is one of the most important works in infrastructure that have been made at the beginning of the century on the river Neuquén, in 1910. Its waters merge with the Limay River froming the Negro River.
Another important tourist places which is very near Vista Alegre is San Patricio del Chañar, where there are the greatest number and most important wineries of worldwide recognition in the province.
Source and photos: www.vistaalegre.gov.ar
For more information contact the phones (0299) 4894447 / 4898961