Primeros Pinos: an ideal ski resort for beginners

See map
Neuquén province has several ski centers at all levels, sizes and complexities. In Primeros Pinos you find one, the closest for those living in the Upper Valley, being at 50 kilometers from Zapala and 230 of the city of Neuquén.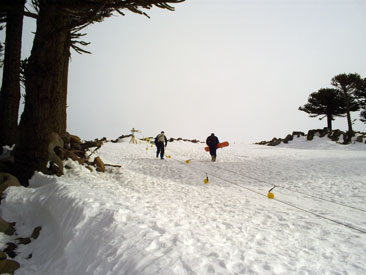 In a family atmosphere you can enjoy snow skiing, walking on motorcycles, having fun riding sleds or why not sliding on the snow in the famous "ass-skate".
It is one of the best ski resorts for those who have never skied because the tracks have gentle slopes. Over 6 acres there are three tracks with a slope of 30 meters, which are: Cerro Quelli Mahuida, Primeros Pinos and Del Bosque.
You can rent equipment and sleds in the park. There is also a cafe where you can enjoy a simple sandwich or a few hot dishes, and a hostel to stay in place.
You can access from the city of Neuquén traveling on National Route 22 to Zapala city and there continue by it until the junction with Provincial Route 13, by which you must travel for 60 km. The average temperature in winter is 4/5 degrees Celsius.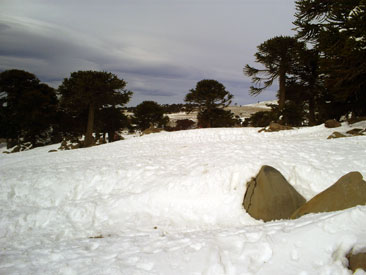 Snow and araucarias in Primeros Pinos.
The lifts are a Teleski Borer up to 600 people an hour and a Ski-lift up to 150 tourists per hour. The depth of snow, dry and compact, is 50 cm approx.
In summer, Primeros Pinos is an ideal place to relax. You can spend the day, enjoy a picnic and a walk to enjoy a very special landscape.
The park itself and the surrounding hills, have a bare and rocky look with heavy patches of Araucaria forest, which are present in a unique way (unusual for this species). Despite being the eastern edge of its range, the specimens reach great size and magnificence.
Related Articles
Pass Pino Hachado
The International Pass Pino Hachado is located in the province of Neuquén to 1884 meters high. It is 3 km before the border crossing with Chile and it is accessed by doing 500 meters from National Route 242.
Zapala: between cement and tourism
Along with Aluminé, Zapala makes part of the Pehuenia area in the center of the province of Neuquén. With more than 35,000 inhabitants, it is located 1012 meters high above sea level, on the intersection of National Routes 22 and 40, and the Provincial Route 13. Crosses that became it an obligatory stop for Andean places in the province of Neuquén.
Laguna Blanca National Park
From Zapala you can visit the Laguna Blanca National Park. It is the most important nesting area of Patagonia with about 100 species of birds, and where there is a well-signal viewpoint and a small museum in the ranger's house.
See all Articles