Centenario: general data

See map
Very close to the capital of Neuquén is Centenario, a growing town that serves as a must place to large resorts. In it you can take historical, cultural and productive tours, or spend the afternoon on the river enjoying the scenery of the Patagonian steppe.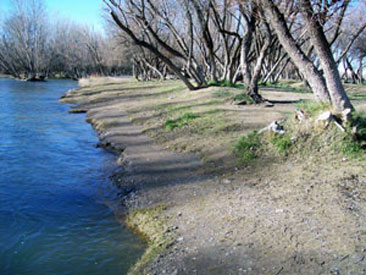 Municipal Spa of Centenario.
The city of Centenario was founded on October 11, 1924. Before taking this name the town was named by the first settlers as "Colonia Sayhueque".
It is located in central-eastern province of Neuquén, Confluence department, 17 kilometers north of the capital. Originally it was established on the Neuquén river valley, now is currently expanding into the plateau.
How to get there?
You can access the city by Provincial Route 7 traveling 15 km in a southeasterly direction from the city of Vista Alegre, after crossing the dam Ingeniero Ballester. From the town of Cinco Saltos of Rio Negro going 5 km from it and crossing the bridge that connects the two cities. And finally, it can be accessed from Neuquén city by Provincial Route 7 traveling 17 km on the highway to the north.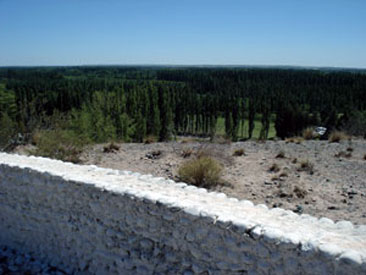 From the lookout you can see the green productive valleys.
In terms of location relative to other domestic cities, Centenario is about 1,160 km from Buenos Aires, 540 km approximate from Santa Rosa (capital of La Pampa), about 1,140 of Cordoba and 2530 km from Ushuaia.
With regard to regional destinations, Centenario forms one of the main crossing points to locations in the province of Neuquén, being thus about 450 km from San Martin de los Andes, 416 km of Chos Malal, 400 km from Copahue and 343 km from Aluminé.
A little history
In 1916, the National Irrigation Department began studying the possibility of a future network of irrigation in the area. Two years later, during the construction of Ballester Dam (15 km north of Centenario), operators working in the play asked the government a portion of land to form an agricultural-pastoral colony. In 1922 it was created the agricultural colony, and two years later it was given the name of Centenario.
Economy
With some 2,500 hectares in production, highlighting the apples, pears and stone fruits growing, which not only generate employment during the harvest period but have also allowed the installation of sheds, cold storage and processing plants of these fruits (as juicers for example).
Moreover, the economy is sustained by the livestock, mining and hydrocarbon, which gives an idea of ​​diversifying of production possibilities offered by this locality.
For more information contact: centenario_turismo@hotmail.com