Cerro Wayle, an ideal resort for beginners

See map
The Cerro Wayle is within Tromen Provincial Park. Located 48 kilometers from Chos Malal, it is accessed by National Route 40, to the spot La Salada where you connect with Route 37.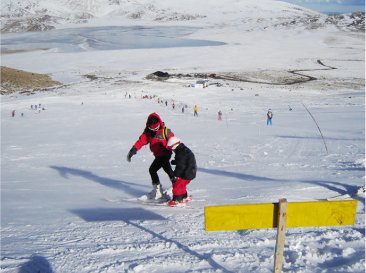 The whole family enjoys in the Wayle. Photo courtesy of www.wayle.com.ar
The ski center was opened in 1998 and the activities available include snowmobile rides, downhill and Nordic skiing, walking ascents to the summit of the hill, snowboarding and other snow sports, all guided by professional instructors.
The Club Andino Cordillera del Viento is responsible for the management, organization and operation of the snow park, and activities are performed every day between 10 and 17 hours.
The Cerro Wayle of 3296 meters high, offers a wide variety of recreational and sports services, as means of lifting it that has three "poma lift" of 300 meters each, with a lift capacity of 200 people per hour.
There is also a tearoom at the base, a shelter where you can hang out and enjoy some hot drink. sleds for recreation, snowmobiles for rent, weather stations, VHF radio and first aid. There is also a ski school, whose instructors provide individual, collective or family group classes, and it also offers equipment rental service.
Slopes
The center track or of La Hoya, with an average slope of 22 degrees and an extension of 3,610 meters, has a course suitable for skiers of all levels. Upon arriving at the valley visitors captivate magnificient views: Lagoon Tromen and its volcano is one of them.
The South-southeast slope measures 1,900 meters and is suitable for intermediate level skiers, it is very convenient because it is sheltered from the wind and it has a steep slope of 35 degrees.
This East track is the most wider, with a length of 2368 meters and heavy snow accumulation. It has five large steps that make your journey varied and busy for an average gradient of 40º.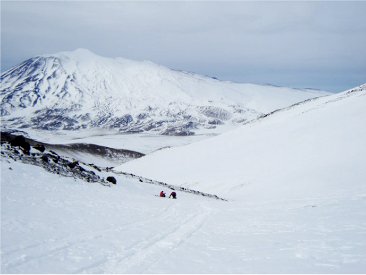 Excellent tracks and all services. View of Domuyo volcano in the background. Photo courtesy of www.wayle.com.ar
The South track south of 1,432 meters, forms a front of nine vertical stripes with tracks with a slope of 50° on average. And finally there is the auxiliary track that is ideal for beginners.
In 2009 it was opened a snow-cats to improve the quality of the tracks, as the hill has always had problems of lack of snow due to strong winds.
For more information visit the official website of this Winter Center: www.wayle.com.ar