El Chaltén, at the foot of Fitz Roy

See map
El Chaltén has two outstanding features:
Being located at the foot of Fitz Roy Hill, is the town where you can see and climb this beautiful mountain, pointed and stone that stands on the geography of Santa Cruz in the Patagonia. And, El Chaltén is the youngest city in Argentina.
Founded in 1985, following a raised border conflict with Chile. The neighboring republic claimed sovereignty over the nearby lake Desierto and its ice in Argentinean territory. Then the national government of the time decided to declare the founding of this town and confirm its strong position. Finally, in 1985, the International Court of Arbitration favor of Argentina and decide that the Ice were in this country.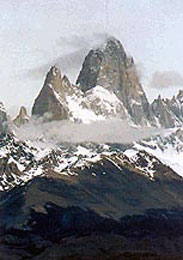 El Chaltén, become one of the resorts senior provincial, is a quiet and picturesque village. It is located in the valley of the De las Vueltas River and on the south bank of Lake Argentino. Near the border with Chile and 240 km from El Calafate, El Chaltén is the perfect blend of flora and fauna with a unique landscape of blue lakes and glacial whiteness indescribable.
Its beauty is fantastic. Between mountains overlook the ice tongues of glaciers that feed the lakes and streams. A green carpet covers the floor dotted with wildflowers of ñires and varied birds cross the air with their songs that beautify the landscape.
It has been declared National Trekking Capital. Is that from town leave trails to several natural wonders, including the Torre glacier and lagoon, Lagoon Capri, Piedras Blancas glacier and Del Salto trickle. Lagoon De los Tres deserves a special mention, to which you come after a difficult climb of 4 to 5 hours, but it offers one of the finest sceneries that can be seen in Patagonia.