Escondido Canyon in El Chocón

See map
3 kilometers from El Chocón it is the Escondido Canyon, a canyon where you can learn more about the past in these lands and that inside you can see dinosaur footprints in different positions.
This 80 meters deep canyon was formed by river discharge produced in these last few thousand years. Its walls are made up of layers of sandstone and red clay which denotes the different layers as product of different geological processes.
Along the your 2 kilometers way, you can find fossils and dinosaur tracks, which were reflected by mica soil that acted as insulation from the rest of the sediments.
The name "Escondido Canyon" is because the path from the same can not be viewed until you reach the edge of the canyon. Until it you reached by a dirt road that follows National Route 237. It can be accessed by car to the entrance, then the route is on foot with the presence of a guide.
Admission is free and guides can be hired in the municipal information office of the town. The tour lasts 3 hours and it can be performed only during the day.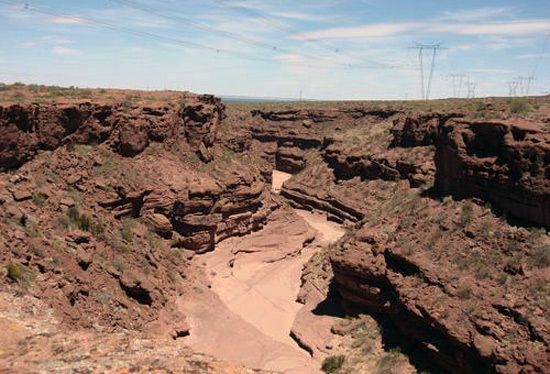 In Escondido Canyon you can find fossils and dinosaur footprints.