Guided tours from El Hoyo

See map
More attractions and rides to be done in El Hoyo can be discover by the hand of a local guide as they are places of difficult access, but just as beautiful as those mentioned in the note about places to visit.
Lake El Espejo. It is located on Piltriquitrón hill at 970 meters above sea level. It is a place of unique conditions, surrounded by a mixed forest, which makes it one of the leading tourist attractions in the region. It also has excellent shores to enjoy peace, nature and adventure. It is essential to have a local guide for the tour.
Lake of the Plesiosaur - Escondida Waterfall. To reach the laKE and waterfall must travel about 15 km from the tourist office by the National Route 40, between the Epuyén river and the Pirque hill. Visitors will find both surrounded by lush vegetation of the Andean Patagonian forest. From the hilltop you can get a beautiful view of the lake and its surroundings. The name of the lake is attributed to the spread that had the mysterious story of Martín Sheffield. Is where he said he saw a Plesiosaur.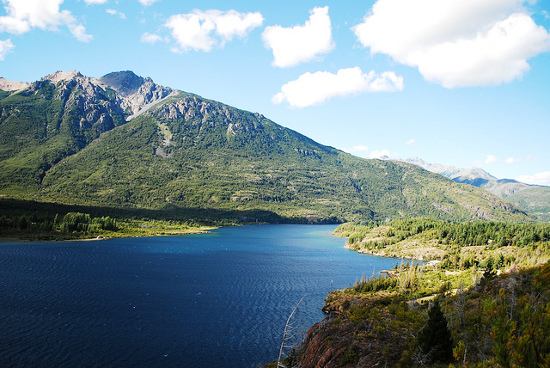 View of Lake Epuyén and Pirque Hill. Photo courtesy of
mundoglobo
.
Lake Los Alerces. Nestled on the "Derrumbe" mountain range about 730 meters above sea level is this lake, which is considered an important reservoir of fresh water. In the vicinity is a large population of larch trees and exotic vegetation, turning the place into a place to enjoy nature and relax. You can navigate the lake and for short walks along its banks is essential to go with a local guide for its high difficulty.
Lake "de los Buenos Pastos". Just 3 kilometers from city center is these Lake, declared a Municipal Reserve in order to achieve preservation of nesting birds in this aquatic environment. The guide helps visitors discover the diversity of fauna, and so appreciate the beauty and natural resources of nature.
Pirque hill. It is an imposing massif of 1885 meters that high impact with its presence. Its name comes from the triangle shape that has, in the Mapuche language means Pirque.
In order to preserve the flora and fauna, especially huemul, declared the hill "Provincial Forest Reserve." This animal is a variety of deer native to the Andean Patagonian forest, which is endangered and therefore was declared a natural monument.