Fishing in Piedra del Águila

See map
For those who like sport fishing, in Piedra del Aguila there are several places authorized for this sport. These sites focus on the Piedra del Aguila dam, in the perilago Kumelkayen and in Picún Pichi Leufú dam. Another option is to approach the banks of the Limay River, a few kilometers from the town.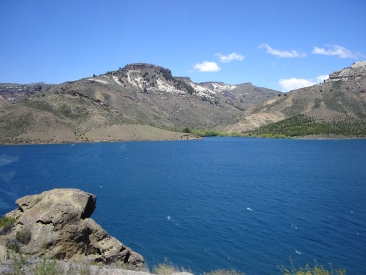 One place where you can fish in Piedra del Águila is Picún Pichi Leufú Dam.
In the perilago Kumelkayen you can fish all year, while in the Limay River season begins in November and ends in May. The method is always sporting, i.e. compulsory return after a maximum extraction and it is required a permit that can be obtained from fishing shops or offices of government agencies.
Limay River is reached by Route 237, but few places are publicly available, others go through private farms for which you have to ask permission to pass. At the height of 1432.8 km there is a public access that allows to get the bridge of the Pichi Picún Leufú dam. In tehe river abound species such as brown and rainbow trouts but you can also find perchs, silversides and puyenes.
18 kilometers from town is the zoo Auca Cayin, another option for fishing brown trouts.
More information and source: http://piedradelaguila.net