Rawson: the capital of Chubut

See map
Rawson is the capital city, seat of government of the province of Chubut. Its name recalls to Dr. Guillermo Rawson, the interior minister at the time of colonization.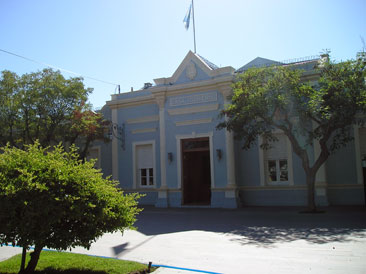 Government House of the province of Chubut in Rawson.
They are part of the city, the spa called "Playa Union", which is a summer attraction for the population of the lower valley, and the Fishing Port, 7 km distance, where small fishing boats operate, making up the fleet that gives boost to the city.
The city stood on the north bank of the Chubut River, near its mouth at a place called "Fuerte VIejo". There on September 15, 1865 was raised for the first time the flag of Argentina in the valley. The ceremony took place in the presence of Captain Murga, sent by the National Government to the fledgling colony, and group of Welsh leaders.
Rawson, the capital of the province, is a city devoted to public administration and is characterized by the thoroughness of its boulevards.
It is only 20 km from Trelew, where live the majority of people working in Rawson, and from 6 pm Rawson is almost deserted and the lights flashing because there is noone who use them.
In this town you can visit different places to learn about the history, flora and fauna, such as José Hernández Cultural Center, Chapel Berwyn, the Salesian Museum of important anthropological value; the History Rescue Center of the city ​​and to know the architecture of public buildings.