Adjacent to the harbor, in the sea, and 6 kilometers from the city of Rawson, Playa Unión Beach offers spectacular waves, fishing, watching dolphins, a large beach and entertainment and recreation places.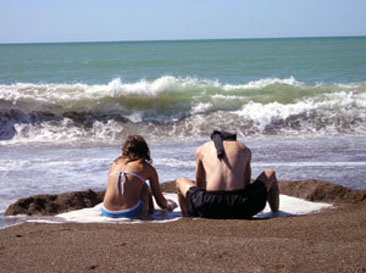 In summer the climate is ideal, temperatures can exceed 30 centigrades.
It is a quiet little resort village in which you can enjoy secluded beaches of gently sloping out of sight in the distance and that allow long walks or simple contemplation.
Its name comes from an Italian ship called Union that sank in the area due to a storm.
By the height of the waves Playa Unión is one of the places chosen by lovers of extreme sports such as surfing and windsurfing, thanks to the physical and climatic characteristics of the place they become it a scene of practices and competitions. For these sports season runs from February to April.
Also, in the beaches you can do sports like soccer, volleyball, paddle, shuffleboard, among others, as they are very extensive beaches of fine sand, or do fishing.
In the resort there are shops, sports bars and dance cafes that operate at full in the summer months.
The beach is also an excellent place to see Commerson's dolphins, a dolphin endemic to the coast of Patagonia. They are very close to the beaches, so much so that Playa Unión has become a favorite spot for whale them from the coast or taking the boats that leave from the pier throughout the year except January and February because it is breeding season.
Playa Unión invites you to enjoy its camping and different types of tourist accommodation, in an atmosphere of tranquility and security. Year after year, this resort has grown to receive tourists, and for a couple of seasons Playa Unión residents have begun to build a significant amount of cabins that accompany the development of tourism in the locality.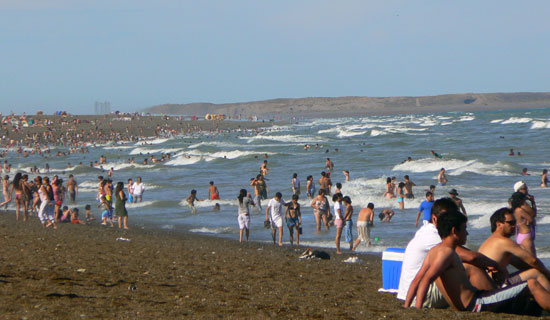 Hundreds of tourists come each year to Playa Unión to spend the hot summer. Photo courtesy of Leonardo A., photo album of Patagonia.com.ar