Sarmiento: what to see and do

See map
Knowing the history and culture of the region
Painted hands(rock art). Approximately 45 km of Sarmiento after passing the Curve of the Virgin you find the dry riverbed. Along the same south, about 1000 meters from the Provincial Route 26 you find this important resource, an example of rock art, evidence of a vanished culture of 5,000 years ago. The round journey from the tourist office is 3 ½ hours.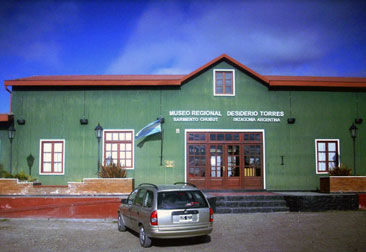 Desiderio Torres Regional Museum.
Desiderio Torres Regional Museum. There you can hear and see the remains of ancient cultures that inhabited these lands of Patagonia, through 24,000 pieces. This heritage also has an important collection of photographs, letters and documents belonging to the former colonists who settled and developed this valley, showing the history of this community.
Regional Culture Centre. Depending on the municipality of Sarmiento, in conjunction with the University of Patagonia San Juan Bosco, these participatory and free workshops aim to develop the exciting work of retrieving and transmitting the techniques used in tillage by those who preceded us.
Historical Room of the Falklands. It is located 5 km inside the military garrison Sarmiento, by depending on the Mechanized Infantry Regiment 25 (first military unit on the ground of Falklands floor in the South Atlantic War "1982"). In the same it can be observed items such as weapons, ammunition, uniforms, documents, banners and pictures of the exploits of the Falklands.
Popular Library "Mariano Moreno". It's a real pride for the community and it demonstrates the interest of the first settlers to cultivate the intellect. It is even more important if we consider that the colony was populated by a veritable melting pot of different and varied origins, mostly European.
Outdoor Tours
Senguer River. This river has its source in Lake Fontana, it empties into Lake Musters and then into Lake Colhue Huapi, giving life through derived channels to the valley of Sarmiento. In its course you can fish trouts.
Lakes Musters and Colhue Huapi. These two major basins, by their extension, are an excellent place to consider when it comes to water sports, fishing or just enjoy the coast.
Sarazola Cave. They are 400 meters of volcanic cave consists of a central gallery. To reach this wonder you must move 35 kilometers west of Sarmiento by asphalt, 2 km more on foot, and to enter there you need permission from the owners of farm Los Manantiales, a local guide help and proper equipment.
Farms area. The farms surrounding the town can be visited through the roads. Tourists can get homemade products, fruits and vegetables of high quality, and tour the dairy establishment "Abuela Mercedes" in the farm 75 and the yogurt plant "Delisar" on 12 de Octubre street.
Adventures. Hiking, climbing hills, river navigation by kayak, water sports, horseback riding, hunting and fishing are some of the many adventures offered to do in Sarmiento.