Tour of the Valley of Cycling in Trelew

See map
The city of Trelew celebrates the first days of October a sporting event that brings together cyclists from the region and country. The newspaper El Chubut organizes a cycling event to celebrate another anniversary of jthis ournalistic medium.
With great enthusiasm is expected every year the Tour of the Valley, an event that has become a classic in the lower valley of Chubut River. Cyclist make long distances linking the towns of Rawson, Trelew, Gaiman, Dolavon and 28 de Julio.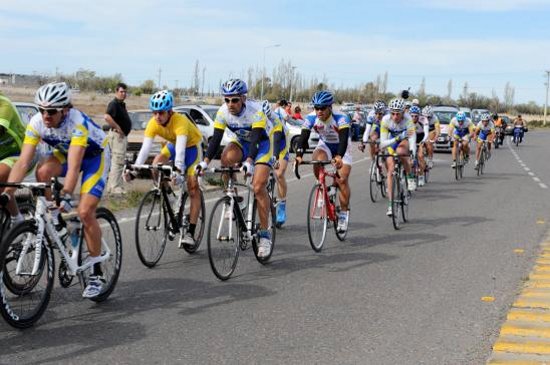 Cyclists on Route 7.

The first festival was carried out in 2010 in conjunction with the celebration of the 35th anniversary of the newspaper in Trelew, Chubut. Hundreds of cyclists took part in competition, which has been declared of Provincial Interest by the Honorable Legislature of Chubut.
The test is divided into two stages during three days:
On Friday the activity is kicked off with the presentation of competitors and the prologue dispute is made, a test in which the riders in a short circuit provide great entertainment to those present.
On Saturday, the First Phase takes place, which includes the tour Trelew-28 de Julio, Trelew. The symbolic start is done against the newspaper El Chubut and the real start is on Capitan Murga and Provincial Route 7, where cyclist will pedal to the towns of Gaiman, Dolavon and 28 de Julio, returning by the same route.
Finally, on Sunday the Second Stage takes place that will start symbolically against the newspaper and then cyclist are given free rein to travel Route 7 to Rawson, reach Playa Unión and return to Trelew, ending at the local racetrack.
Both days at the end of the stages the awards will take place and on Sunday the farewell to all competitors is done.
2011 Edition
With great desire was expected the second edition of the Tour of the Valley that was held on September 30 and on October 1 and 2. Also it was expected to involve more than 100 runners among whom are some of the international hierarchy, as the winners of the Tour of Uruguay and American Routes, two very important cycling races.
Those who wish to participate in further editions should contact the contact number of Silvio Barroso (02965) 15676244 or mail barrososil50@hotmail.com. Registration is free for all riders.
Photo and video courtesy of El Chubut Newspaper.