Former prison and maritime Museum

See map
A few meters from the Beagle Channel, stands intact a stone building which was the Prison of Ushuaia.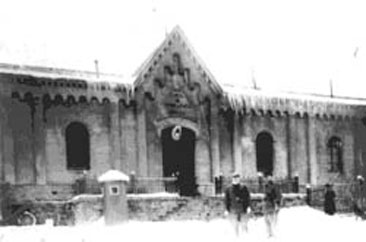 In 1896, after President Roca authorized the construction of the prison, twenty-three prisoners set out from Buenos Aires and then sailing the South Atlantic, landed in Ushuaia to build the most southerly jail in the world that they would inhabit.
Despite having a total of 380 single cells, the prison came to house up to 800 inmates, from serial criminals to political prisoners. There the prisoners received primary education and compensation for work performed, so that the prisoners could save money to send to their families or to have when they left. Within the prison ran various workshops that served the needs of the community: tailoring, shoemaking, blacksmithing, pharmacy and medical service.
Those with good conduct were taken on the train which since 1909 reach the current Tierra del Fuego National Park, to collect firewood that later serve for heating the jail and the people. After several decades the prison was considered that ruined the city and it was ordered be suppress. It was closed and abandoned in 1947. The building was acquired by the Navy and Naval Base was installed there.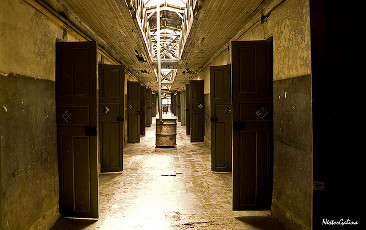 The halls of the former prison of Ushuaia, now the Museum. Photo courtesy of
nestor galina
Today, you can walk its halls and visit the cells for prisoners, whose cold stone walls housed robbers and extremely dangerous criminals, sentenced to life imprisonment. Among them was young anarchist Simon Radowitsky who killed the curator Lorenzo Falcon in 1909, placing a bomb in the car, and that during his sentencing staged a spectacular escape being caught in sea near Punta Arenas. It is also remind Santos Godino, known as "The Petiso Orejudo", a crazy boy born in the neighborhood of Parque Patricios, who used to enjoy hanging minors. Godino died in 1944 of internal bleeding caused by a beating from the same convicts, after having thrown the prison's pet, a cat inside a wood stove.
Legend tells that after the prison's grills also passed a boy of 20 who might have been Carlos Gardel, but it could never be find real documents that testify this event. In one cell, one can see a picture of the face of the "Zorzal Criollo" painted on the wall, wearing his usual elegantly dark hat.
It is interesting to visit the "Maritime Museum of Ushuaia", in Hall N°4 of the prison. It features a scale replica of the ships that belonged to the first expedition as well as photos, videos and objects relating to the history of Tierra del Fuego.