Sailing the waters of Beagle Channel

See map
Navigating the Beagle Channel might be the highlight of a day's visit to Ushuaia, especially in autumn when the world's southernmost city and its surroundings offer from the water a wonderful picture, surrounded by the woods yet haven't lost their leaves.
There are short voyages through the canal, during which there are small islands with colonies of sea lions and sea birds, or to introduce a passenger in the underwater world of the crab through an underwater TV camera.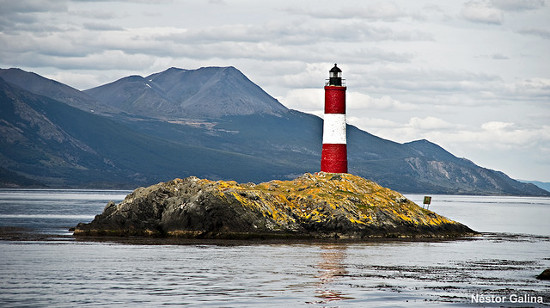 The famous lighthouse of Ushuaia, typical postcard of the city. Photo courtesy of
nestor galina
.
And there are longer term options, which reach the famous Bay Lapataia -last point of the national route 3 - within the National Park Tierra del Fuego, or to the Harberton Farm, the first rural settlement of the island, founded in 1884 by Anglican missionary Thomas Bridges.
The tours are aboard modern catamarans, or classic motor boats with a rich history in the area, including sailboats and dinghies. In all cases, the boats pass by the photogenic lighthouse Les Eclaireurs, archetypal and fascinating, close to where sank in 1930 the German steamer "Monte Cervantes".
Some of these services include walks. For example, Bridges Islands, in the rookery on Martillo island or Redonda Island, where it is the southernmost Estafeta Postal of Correo Argentino.
Of course, as the port of Ushuaia, ultimate goal achieved by sailors around the world, there are options for sailing the southern waters, hiring a yacht for a day or more. So, you can reach the mythical Cape Hornos or through the channels of western Tierra del Fuego, where you can see hanging glaciers that reach the sea.
All these possibilities can be combined with hiking, horseback riding and tours in 4x4 vehicles, most of which depart from Ushuaia.
By Emilio Urruty