Kayaking in Aluminé: feel the adrenaline

See map
Who never got into a kayak and took to the vagaries of the water may not know how much adrenaline, adventure and how much energy you can experience on these small boats.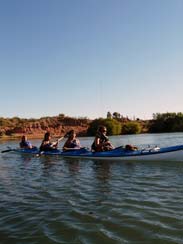 Kayaking in Aluminé river.
Aluminé is an ideal place for practicing kayak at the Ruca Choroi river, one of the best of Patagonia for that sport. With its rapids and difficulties in navigation is exciting for the adventurous who like strong emotions. Aluminé River also offers year-round streams of water unique in the country and is suitable for Rodeo, a practice of doing "stunts" with boats.
The kayaking trips start very early. Where you hired the excursion is also provide clothing, wetsuits, life jackets, helmets and boots. Preparations for the "downs" experienced as a ritual, emotion and enthusiasm did not prevent the guides explaining the recommendations and care.
For the more experienced the previous steps are not of any mystery, the more expected is to sail on crystal clear water, framed in a landscape of stone masses, araucarias centennial trees and the most diverse native species.
The kayak descents are performed throughout the year. Although winter freezing temperatures do regret more than one, the modern equipment protect the crews of the harsh climate. During the cruise the boats are immersed among swirls of icy water, sliding down smooth and bypass flows imposed huge rocks in the middle of the rapids.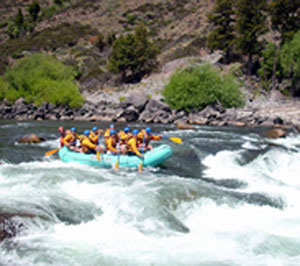 Rafting is another way to enjoy the river.
The geography of rivers Ruca Choroi and Aluminé are more than generous to live a pure action day with friends or family. You must just cheer up. Therefore, it is said that those who come to these places are looking for new experiences or have already been conquered by the beauty of the place and the benefits of this extreme sport.
Another great attraction of this area is rafting. These huge rubber rafts have a capacity for six persons, who under the orders of a guide sail down the river searching for inexplicable sensations.