Tourists circuits from Aluminé

See map
You can do three tourist circuits to continue hearing the area. In these cases, you must have a vehicle to move from one place to another and, of course, looking forward to meeting new and exciting places.
Lake Ruca Choroi circuit
This tour is starts out by the West of Aluminé through Provincial Route No. 18 and after 25 km away, you reach the lake Ruca Choroy that means "house or nest of parrots" in the Mapuche language. This lake has an area of ​​3.3 km2 and is located within the North Branch of Lanin National Park, which has dense vegetation with predominance of Araucaria in the form of ancient forest.
Along the way, and always along the left bank of Ruca Choroi river, the Lake López can be observed in which you can spot birds like flamingos, black-necked swans and several species of ducks.
Then you go through the "Paraje Carrilil" and the Aigo Mapuche Community, one of the largest in the province of Neuquén, who maintain their customs and crafts offered for sale and local food based on "piñón", the fruit of the tree called pehuén or Araucaria, characteristic of the region.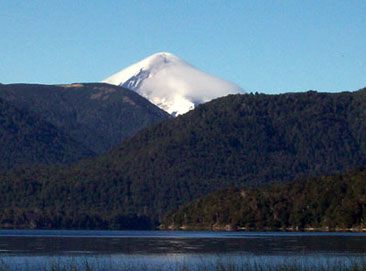 View of Lanín volcano from the lake Quillén shore.
At the site, you can find the ranger's house, who controls and provides information on the site, and two camping sites, one with basic services and a free mode, ie only camping site and cooking.
Access: Provincial Route No. 18
Total travel: 50 km roundtrip
Duration: 4 hours
Season: spring, summer, fall, winter only with 4X4.
Two lakes circuit (Quillén and Hui Hui)
This time, you will start from South Aluminé through Provincial Route No. 23 crossing about 18 kilometers or so until the Paraje Rahue, which in Mapuche language means "where there is clay." Once there, take Provincial Route No. 46 to the south-west is a distance of approximately 30 kilometers to Lake Quillen, "strawbery field" in Mapuche language.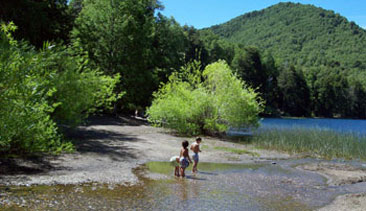 Shore of lake Quillén that you can enjoy in summer.
This lake of 24 km2 and the lake Hui Hui - "jet water force" in Mapuche language, about 11 kilometers away, sets up one of the most beautiful lakes area in the province within the North Branch of the Lanín National Park (like Lake Ruca Choroy). They are surrounded by vegetation with an incredible variety of flowers that complement the view of Volcan Lanín.
On the north shore of Lake Quillén you can do all sorts of activities due to low water level and the extensive beaches of pebbles. Also you can observe hares and wild ducks and other animals, and appreciate the beginning of the Andean forest.
The site offers the ability to perform activities such as agro-tourism, fishing, hunting and horseback riding, visit the National Gendarmerie station site for information, a picnic area and two camping sites, one with basic services and the other free .
Access: Provincial Routes No. 23 and 46
Total trip: 110 km roundtrip.
Duration: half day.
Season: spring, summer, fall and winter only with 4x4.
Pehuenia circuit
The latest proposed route, which runs from northern Aluminé through Provincial Route No. 23 is named after the large amount of Araucaria or pehuenes that can be seen along the way, besides five lakes and points of interest.
Along the way you will find the Gruta Ceferino, Piedra Gaucha formation and several tourism projects dedicated to housing and making cheese, jams, preserves and honey, among others. After 19 km you will reach a junction of paths, in which you have to turn left by the Provincial Route No. 11 and after a few kilometers you can make bird watching in Los Giles lagoon.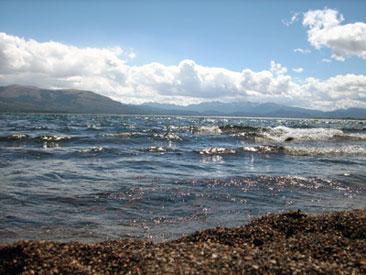 View of lake Aluminé in Villa Pehuenia
Continuing the tour, you will find the lake Pulmarí where it is the viewpoint Piedra Pintada with rock art. Then, once you enter the Lanin National Park area, after 2 km along the lake Ñorquinco, you can visit three waterfalls and make an interesting interpretive trail made by the Ñorquinco Mapuche community beside the ranger. After going through the trail and returning to the PR No. 11 you can continue monitoring the lake Ñorquinco and the lake Nompehuén, near the first.
Finally you travel along a path that contains a large and varied vegetation, waterfalls and majestic rock formations, including the breathtaking Impodi mountain and Farallón Cresta de Gallo, coming this way to the lake Moquehue which you can't miss.
Following the PR No. 11 you reach a new branch, in which you should take the PR No. 13 to the town of Villa Pehuenia, on the shores of Lake Alumine. You follow the same route until it ran again with PR No. 23 to return to Aluminé.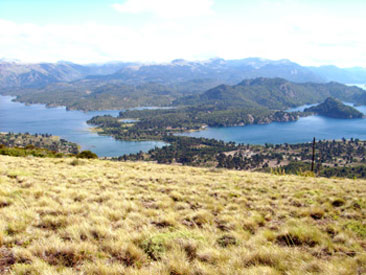 From the way to Batea Mahuida you can see the union of lakes Moquehue and Aluminé.
On the way you can have free camping, wild and organized, a dispensary and a hospital, several grosery stores, gendarmerie, ranger, excurtions, fuel supply, hotel accommodations, cabins, restaurants and the Winter Park Batea Mahuida.
Access: Provincial Routes No. 23, 11 y 13.
Total trip: 170 km roundtrip.
Duration: a day.
Season: spring, summer and fall.