Catriel: general data

See map
Northwest of the province of Río Negro and near the quadripartite border with the provinces of Mendoza, La Pampa and Neuquén, is the oil town of Catriel.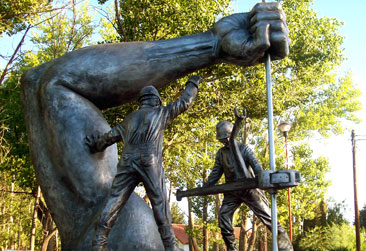 Monument in Tribute to oil worker.
It is the largest urban settlement in the area and is on the right bank of the Colorado River. Here the climate is arid, with high summer temperatures reaching 40 centigrades, low rainfall and very cold winters with frequent frosts.
Catriel has developed as an oil town but today is one of the most important cities of the region and has a wealth of activities to enjoy it. The town invites you to tour the natural and native landscape that surrounds it, immerse yourself in the farms, and make sport circuits.
Few meters from the historic downtown you can experience tempting proposals of leisure, entertainment and outdoor living. Dunes, crops, animals and all the charm of nature for a holiday surrounded by tranquility, security and nature.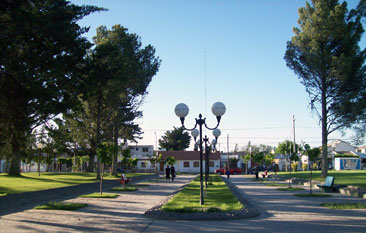 Main Square San Martín.
Among the main attractions in the city are included the Valley of the Moon with stunning geological formations, the riverside of the Colorado River with lush vegetation and fauna. Finally, Lake Casa de Piedra about 55 km above the Colorado River, which is the artificial lake of the dam Casa de Piedra on the border between Río Negro and La Pampa provinces.
Also in Catriel you can relax in its many restaurants, cafes, pubs, discos and a casino as well as in the recreational and sports centers. Among the latters may be mentioned the Recreation Complex Co.Te.Ca.L, entering by the northern access to the city. Here are three swimming pools, paddle, tennis and soccer fields, camping area, grills, restrooms.
Source and photos: Municipal Tourism Office of Catriel