Enjoying the nature in Cholila

See map
Viewpoints, rivers and lakes, places that we suggest you to visit if you were in Cholila.
Lake Mosquito
It is located on Provincial Route 15 just 2 kilometers from the Valley El Rincón. Walking from El Rincón across Las Minas stream by a small wooden bridge, then ascending 500 meters, from there you have a privileged view of two valleys of Cholila, and descending by a path of little difficulty reaching the lake where you can see birds, flora, fauna or just relax.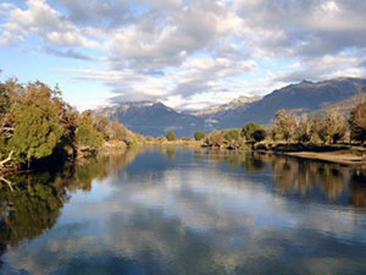 Carreleufú river, ideal for sport fishing.
Carrileufú River
From the lake Cholila you can go on boat by Carrileufú river, in which you can practice sport fishing and obtain copies of rainbow and brown trouts and landlocked salmons. The flow and force of its waters make due caution to those who want to get to swim.
Lake Cholila
From the valley El Rincón you travel 3 kilometers to the intersection of Provincial Route 71 and on the left there are 25 km more to the lake. In it you can go fishing or enjoy nature.
El Morro Property
It is 500 meters high. In it is celebrated the Provincial Barbecue Festival and the town anniversary. From that point you have a view of the valley El Rincónr, plus you can do mountain biking and hiking.
La Momia Hill
A 1757 m.a.s.l. with a moderately difficult of climbing it is required good physical condition and always accompanied with a guide you can do trekking or horseback riding to the top of this hill where you can see the four valleys that make up Cholila, the rivers and lakes that cross it and the Los Alerces National Park.