Jordán island in Cipolletti

See map
One of the advantages of living on the river bank is the possibility of easy access to watering places in summer and in the cold months to turn those places in recreation centers.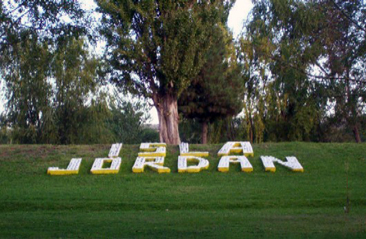 Jordán island entrance. Photo courtesy of Centro de Informes Turísticos de Cipolletti.
Cipolletti has its watering place: the Jordán island. En this area, the Interjurisdictional Basin Authority (AIC), was an important canal of an arm of the river to allow water to flow smoothly to the amusement clubs. The name of the island comes from the name of Alberto Jordán, a former resident of that place, whose parents were French Basques. He settled in Cipolletti in 1920 devoted to transport gravel from the islands to the route between the different towns of the Upper Valley.
This space besides combining forestry and waterways, is safe and quiet and has become an attraction for sports activities. There is a karting piste, one for rally and frequently are organized motocross competitions and other land and water sports.
Added to this there are social resorts and recreational clubs, an excellent place to safely enjoy the outdoors. In summer the presence of lifeguards eliminates the risk of accidents. Facilities procurement, camping, barbecue, games, soccer fields, restrooms and the proximity of the city make it become the ideal place for families to enjoy.
As an additional attraction is a pond where you can cross to the south bank of Negro River, where there are several things to do such as mountain biking and endurance, and a resort called Playaventura.