Health, beauty and relaxation in Patagonia with the hot springs of Copahue

See map
The thermal resort located in Copahue offers a series of thermal programs for those seeking to improve their health, relax and beautify the body thanks to the volcanic past in the area that has given rise to fumaroles and hot springs, ideal thermal resources.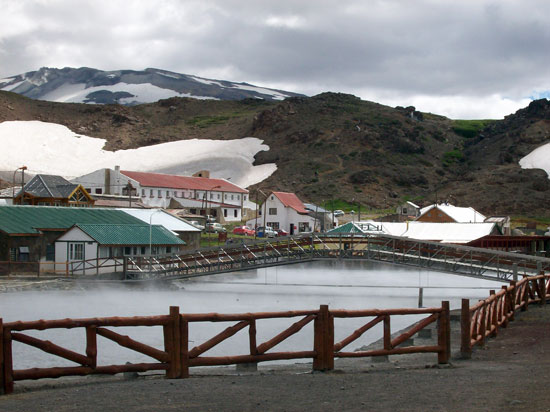 View of the thermal resort with Copahue volcano background. Photo courtesy of Perez Pertino family.
Copahue hot springs are administered by the Thermal Provincial Entity and have an area of ​​10,500 m2 between the main building, outside bathrooms, natural lagoons, fumaroles and hot springs.
Among the programs recommended by the spa town are:
Osteoarticular programs: for those who mainly use the gray mud in diseases such as arthritis, fibromyalgia, arthritis reumaticatoide, 0 negative arthritis, connective tissue diseases, post-fracture rehabilitation, muscle and ligament injuries. Can also be used in this program baths with whirlpool water hidropulsor or sulfated, ferruginous or radioactive.
Respiratory Programs: in sessions that combine sulfurous steam and mists with sulphurous water of average mineralization bicarbonate and water, and if your doctor tells you add respiratory rehabilitation carried out by physiotherapists. This program is ideal for conditions such as chronic rhinitis, chronic sinusitis, chronic laryngeal tracheitis, chronic bronchitis and asthma.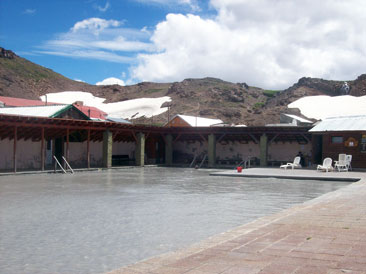 In Laguna del Chancho is combine heliotherapy, hydrotherapy and mud therapy. Photo courtesy of Perez Pertino family.
Dermatological Programs: These forms are called "skin days" and consist of sulfated algae and mud applications with microscopic algae which are then removed with water sulfate, iron-rich, silicate, radioactive in a whirlpool tub. Under the conditions of each patient, the programs that may be partially or totally are psoriasis, dermatitis, eczema, and more.
Hydropinic Therapies: recommended for people who are diagnosed with slow digestion, jaundice and constipation. Drinkable water is used sulphated ferruginous silicate and radioactive mineralization strong (lemon water, volcano water and mate water) and bicarbonate waters and sulfide mineralization media (Copahue water, sulfur water, ferruginous water) that produce in the body antacid and antiseptic action. Furthermore, this treatment aids digestion, helps protect the liver, boosts insulin activity and the elimination of uric acid.
Rehab programs: are aimed at preventing or reducing the functional, physical and mental deficiencies or disabilities. To do so, within this program offer specialist trauma treatment, neurological, rheumatological and respiratory cabinets fitted with physiotherapy and gymnastics. From the thermal resort is recommended that people who have kidney failure, respiratory and / or cardiovascular disease, hypersensitivity to sulfur, no discharge or malignancies should not undergo any treatment at the spa.
Programs of relaxation and beauty: in them combine the therapeutic properties of thermal waters and mud, with activities to relieve stress and restore health and beauty of the skin. They are common in these programs, immersion baths, steam or hidropulsor, showers filiform, massages and whirlpools, as well as applications of mud, gels, masks and moisturizers for tired legs, holistic beauty and hands' spa.