El Bolsón: for those seeking peace

See map
At the beginning of the century a few people named this place the Republic of El Bolson, a name that was short-lived. It is now call "the garden of the province" and this time they are not wrong.
With indigenous peoples most Chileans and European immigrants, El Bolson is now a melting pot of influences and a place suitable for unconventional tourism.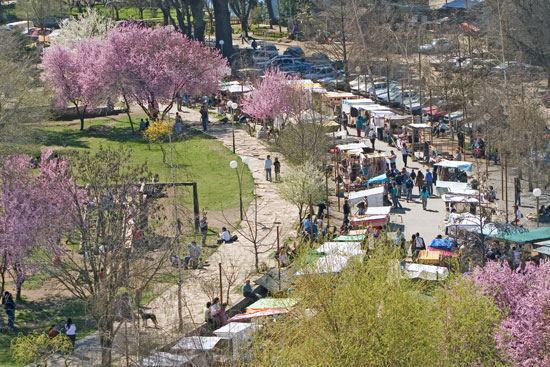 La plaza en primavera. Foto gentileza de Eugenia Gartner, Secretaría de Turismo Municipalidad de El Bolsón.
Preferred site for those seeking peace and tranquility to find a scenario where nature is displayed in full, stunning and extremely beautiful. And where hiking, adventure, history, myths, culture and tranquility are the ingredients that guarantee a pleasant holiday.
With a wide variety of geographic environments, El Bolson is a city of about 14 thousand inhabitants surrounded by ancient forests, snowy peaks and pristine waters that its economy relies mainly on tourism, agriculture and fruit growing. Situated about 120 km south of San Carlos de Bariloche, is the valley of El Bolson, which focuses on the organic cultivation of land, handicrafts, production of fruit jam, beer and tourism.
Although is visited by different types of tourists El Bolsón found his identity in a type of tourism with environmental awareness and respect for nature. This is how during the warm summer weather is ideal for productive and recreational activities like horseback riding, trekking, rafting and mountain bike through various circuits such as the Camino de los Nogales, the Nahuelpan waterfall, the Azul River, Cerrito Amigo and "Cabeza de Indio" or tours to cerro Lindo, Hielo Azul, Piltriquitrón hill and Cajón del Azul among others.
Because of the mountain ranges surrounding the town, including the imposing hill Piltriquitrón (protecting city of the wind), El Bolson is considered a privileged site for paragliding, single or tandem flights. And it is a starting point to other tourist destinations in the region such as National Parks Lago Puelo and Los Alerces and the site that cradles the emblematic locomotive "La Trochita" in El Maitén.
One of the classic attractions of the area is the Regional Fair, where artisans, producers and artists come to the central park to showcase their products and market them to the thousands of tourists that visit the place every year.
Each end of January, locals commemorate the anniversary of El Bolson with the National Hops Festival which sometimes can change the date to February or March.
For more information on tours, accommodation and food, is available for the tourist an information office located at Avenida San Martín and Roca. The phone numbers are (02944) 492604 / 455336.