Paragliding in El Bolson, to be very close to the sky

See map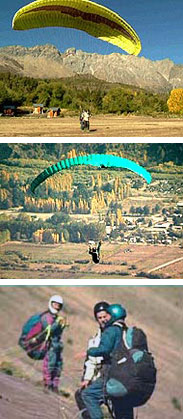 Gliding is a unique experience in El Bolsón.
The old man's dream to fly and conquer the skies allowed the existence of exciting sports such as paragliding. El Bolsón, as many sites of Patagonia, offers an excellent framework to risk the adventure.
So hiring an instructor for the city, either with only courage and fitness, you can take the unique sensation of flying.
The expedition begins with the rise in vehicle to Piltriquitrón hill until you reach the platform used by gliders for launch into space. Once there, the pilots begin to unfold their sails and set up his equipment waiting for the wind to blow the sail and let off.
The first flights are tandem, meaning that the instructor accompanies the adventure novel. And when learners begin to fly alone they make an average height of 20 to 30 meters guided by the instructor through a handy.
It's impossible to describe the absolute peace you feel up there, where silence, the pleasure and the desired freedom are the same thing.