Bosque temático Belenus: a new tourist attraction in El Bolsón

See map
From the summer 2009 El Bolsón offers tourists the chance to enjoy a new attraction where you can discover fairies, goblins and other mysterious creatures that inhabit the forest called Bosque Temático Belenus.

Map to get to Bosque temático Belenus.
The venture was developed as part of an ancient forest of coihues, cypress and other native species protected, located in the tourist circuit Mallin Ahogado next to La Catarata, 10 km from the center of the town.
The area has a river with waterfalls full of trout that can be appreciated once you cross the bridge of logs that enters the magical world created by Belenus. All you find there is an ideal place to discover the secrets of nature, listen to the music of the waterfalls, water running over stones and birds.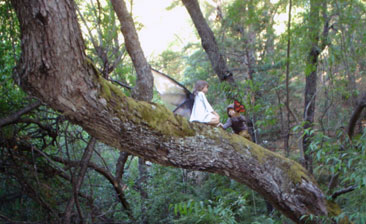 You discover the sculptures while you wlak through the forest.
For this forest were created unique and original sculptures, which were designed and made ​​by sculptor Ernesto Ortiz and Mariana Bertedor forming the collection "The Spirit of the Forest. "
This tour is open all year from 9 to 21 hours during the spring / summer season from 10:30 to 18 hours in autumn and from 11 to 17 hours in winter.
In the site there are toilets, no water or food is sold so you can take a snack for lunch or to drink mate. You have to pay for entrance.