Eco Adventure in El Bolsón

See map
El Bolsón is prepared each April for a new Eco Adventure in Valle Azul in Lake Escondido. It is a competition that spans three disciplines: mountain biking, trekking and inflatable canoes or Dukie.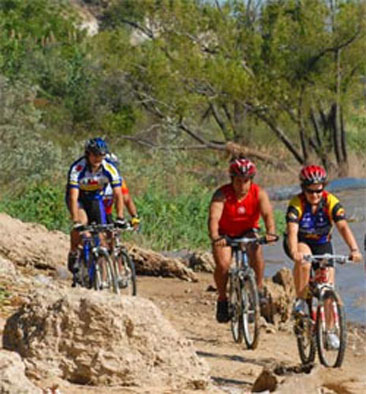 In the competition you ride 90 kilometers in Mountain Bike.
Competitors must be trained to cover a total 150 kilometers in 2 days. The first day comprises 60 kilometers of mountain bike, 9 km of duckies and 20 km of hiking. For the second day awaits the competitors a distance of 25 km of trekking, 30 of mountain bike and other 6 trekking.
Each part of the team must have a bicycle in good condition, helmet, paddle, life jacket, sleeping bag and a first aid equipment.
Route
From El Bolsón to Lake Escondido through Cabeza del Indio circuit, Escondida waterfalls, Mallín Ahogado and Pampa de Soria. Then 9 km canoing in Lake Escondido and finally trekking from the lake to the place where the competitors have dinner, stay and eat breakfast.
On the second day the tour begins with trekking at the base of Cerro Perito Moreno and Encanto Blanco Shelter. Then mountain bike from Tillería to El Bolson by Valle del Azul returning to Loma del Medio and Bajada de Greda and last 6 km of trekking on the Cerro Amigo circuit round trip.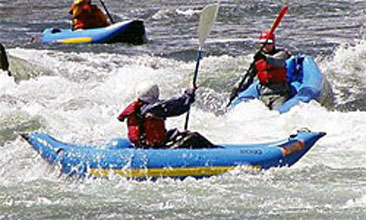 Support vessels are provide by the organization.
The test is two-man team which are divided into categories: Free, Mixed and Veterans (they must add at least 80 years between the two competitors).
Requirements in each discipline
Mountain bike: each competitor has his bike and can not be changed in case of breakage, can be repaired, enticed, and so on or complete the relevant route on foot. The helmet is mandatory in this segment.
Trekking: There are three sections where the riders must always go together.
Dukies: Each competitor must carry his paddle and life jacket. In the water does not receive assistance from the aid. Is provided by the organization for support vessels.
In general there are cash awards to the top three in the overall rankings, medals to all who completed the test and trophies to third place in each category. Each participant will receive a commemorative bib of the competition and an energy drink at the end of the test.
Contact organizers: elgalpon@elbolson.com. (02944) 15578320 / 15419541 / 15632598 / 15578950