Museum of Patagonia Rocks in El Bolsón

See map
Very close to El Bolsón, Eduardo and Isabel are carrying out a personal venture. It is n a Museum of Stones that have been available to those who want to visit.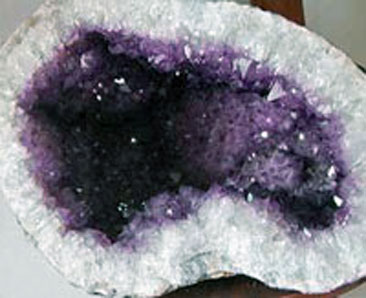 Geode: one of the stones you can see at the museum.
13 kilometers from El Bolsón is the Museum of Patagonia Stones. It is located on the farm "Laten k'Aike" which in tehuelche language means "where stones live" on the Mallín Ahogado circuit.
Minerals are natural exhibited and also cut and polished so that visitors can appreciate the beauty and uniqueness of these stones.
Eduardo and Isabel Lucio are the ones who gave life to the project to have a space to exhibit the mineral components. They personally organized the tours and explain about each piece and how they express each geological stage.
In addition to explaining the value of the stones from a mineralogical perspective emphasize its cultural importance, highlighting the importance of care and the relationship with the environment.
The museum also has a theme park which shows the Patagonian geology. Is outside the museum, where there are water sources with Andean stylish designs, made of stone and wood, armed by natural recess.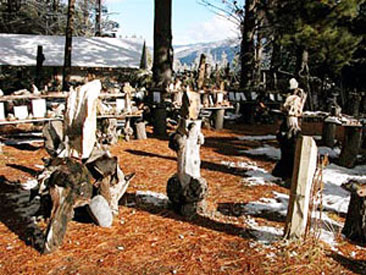 Part of the theme park where you can see sculptures made of stone and wood.
The museum was declared a municipal interest by the City Council of El Bolson and turist, educational and cultural interest by the legislature of the province of Río Negro. In summer days are organized for children geotourism days in which they have to look for minerals by encouraging the encounter with the natural world.
Visitors to the Museum will have the opportunity to acquire Patagonian stones and semiprecious stones, mineral for collecting such as geodes, quartz crystals, agates, celestinas, barite, amethyst, jaspsr, opal, thundereggs obsidian, chalcedony, hyalite, carnelian, calcite, fluorite, olivine, aragonite, among others. All ideal for crafts.
Also provides educational materials to learn more about the wealth and properties of stones, material written by the owners of the museum.
The Museum is open every day of the year, at the following times:
January and February: from 11am to 8pm
March to December inclusive: from 11am to 6pm
More information: (02944) 491969
Photos and info: www.piedrasdepatagonia.com.ar